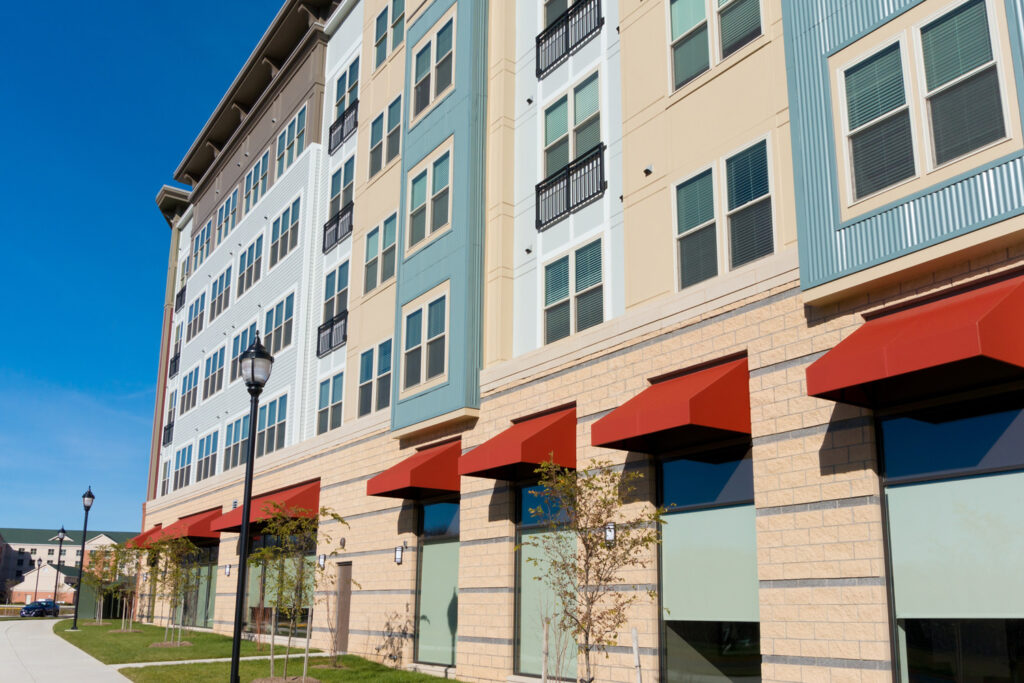 Combining mixed-use and multifamily housing can yield benefits
Developers can support regional needs for affordable housing with healthy ROI
Mixed-use and affordable multifamily housing developments aren't always pictured together, and developers may wonder about the financial viability of a project that combines mixed-use and multifamily housing. But increasingly, developers are realizing the benefits of such projects, including easing the affordable housing crisis in communities they care about. More, these developments are showing promise as profitable investment opportunities.
It should come as no surprise that the supply of affordable housing has fallen well below demand throughout the country, particularly as recent cost-of-living increases have outpaced wage increases. Mixed-use projects offer a promising solution when they incorporate affordable multifamily housing and commercial spaces, which can help subsidize housing and offset project costs, particularly in areas where land is at a premium. It's an option being explored in many places, among them South Los Angeles, where a 15,000-square-foot grocery store anchors an 80-unit project, and in Florida's Little Havana, where 700 units of affordable housing cozy up with 80,000 square feet of retail.
Several similar projects are underway in the Midwest, especially in Chicago, where the Affordable Requirements Ordinance requires 20% of all new units be set aside as affordable housing. The Habitat Co., for example, is developing Ogden Commons, a $200 million mixed-income project that, by the end of 2022, will add 110 residential units (90% of them designated as affordable) to 52,000 square feet of retail space. And Structured Development just broke ground in December for a three-building, 487-unit development that combines affordable condos, co-living units and market-rate rentals with retail at its Shops at Big Deahl.
Potential benefits of combined mixed-use and affordable housing
The potential benefits are many. Mixed-use projects that incorporate affordable housing can draw residents to commercial districts in dense, downtown areas, adding value and complementing the neighborhood. They can reduce traffic as residents can work and enjoy activities close to home. They can also help revitalize areas, breathing new life into them and creating a sense of community. Gone is the specter of public or low-income housing; mixed-income housing and mixed-use construction weaves these communities together and strengthens the whole. When well done, mixed-use housing that incorporates affordable housing can create a pipeline of people who have an opportunity to improve their circumstances and level up in housing.
Developers may question whether the challenges of mixed-use construction are worth it: increased costs per square foot, financing challenges and market demand among them. However, subsidies exist for commercial real estate developments that incorporate affordable and mixed-income housing, and creative financing opportunities can be explored. And let's not forget, commercial space can provide additional income revenue streams that are stable and dependable. Attract commercial tenants who also address residential tenant needs, and you have built-in features that can attract and retain residents.
The keys to success include design and build
The keys to success in building combined mixed-use and multifamily housing depend on many factors, including the establishment of goals based on market analysis, visibility and access, parking availability and selecting commercial tenants that add value. Most of all, partnering with trusted commercial building contractors and leveraging the design-build project model can ensure you have the right team in place to tackle the unique challenges of this type of development. With design and build, you have a streamlined approach to your project, one in which all stakeholders from mixed-use design through construction collaboratively toward a shared vision.
Looking for commercial general contractors in Wisconsin or Minnesota?
Affordable housing, incorporated with restaurants, retail and other commercial endeavors, can create an alchemy that offers potential profitability, community revitalization and housing solutions within livable communities. If it's time to explore the opportunities in your area for combining affordable multifamily housing and mixed-use developments, the design-build model of construction can make all the difference. Give us a call to get a head start on your mixed-use affordable housing project today.