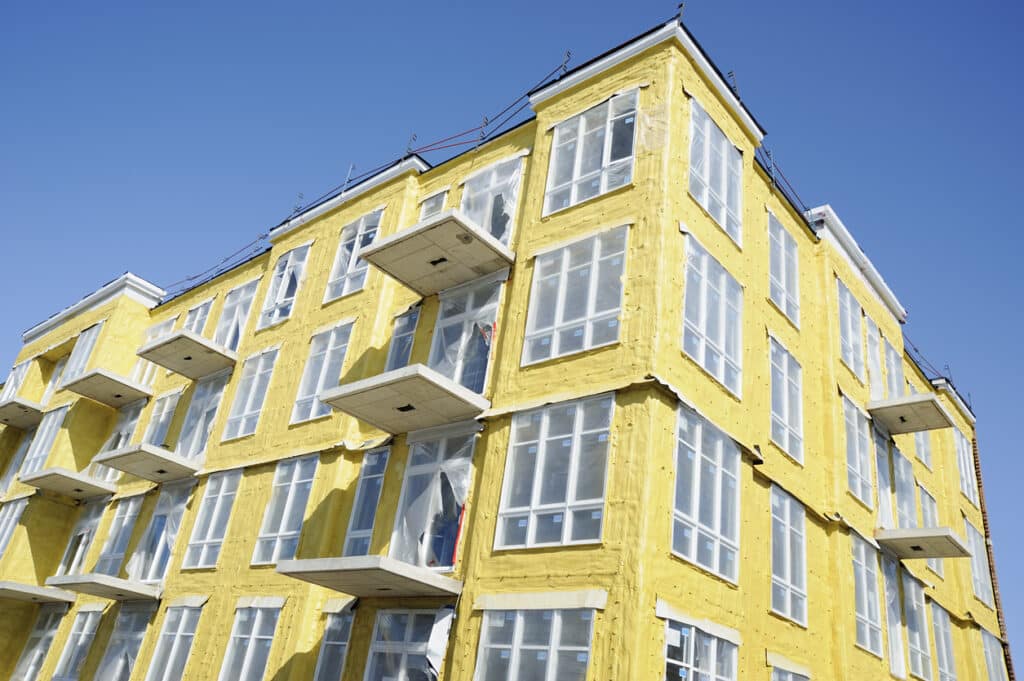 Continuous insulation gaining traction
Understanding what it is, legal requirements and how to make it happen.
As energy codes continue to evolve, continuous insulation is a topic that has gained attention among commercial construction general contractors, and developers must keep an eye on emerging energy efficiency laws as they contemplate their next commercial construction projects. For example, in Minnesota, the 2020 Minnesota Energy Code has standards set that now require continuous insulation, adopting standards in the 2012 International Energy Conservation Code (IECC) for both residential and commercial buildings. Whether you're searching for general contractors in La Crosse, WI, or construction management services in Rochester, MN, finding a design and build firm that can help you determine whether or which continuous insulation is right for your project is essential.
Understandably, not all developers are experts on local and state building codes, much less international building codes that states have adopted. Moreover, these standards can be so complex that they begin to look like alphabet soup. The good news is our design-build experts are well-versed in energy efficiency standards, techniques, and best practices. And we can demystify complex codes and advise developers on solutions that get at strategic goals as well as code compliance. So let's take a closer look at continuous insulation, what it is, and what that means for you as a commercial developer.
Defining continuous insulation
Continuous insulation is sometimes referred to as "outsulation."  Continuous insulation allows for a high standard of insulation that applies to the building envelope, which is the entire exterior shell of a building, including all doors, windows, and walls, as well as the foundation and ceiling. Simply put, the building envelope is the physical barrier between the interior of a commercial building and its exterior. The IECC requirements are set according to climate zones and apply to all parts of the building envelope, both above and below grade. A key aspect of the IECC requirements is that the historically-common practice of using fiberglass batts between framing studs as the only insulation is no longer acceptable alone. However, continuous insulation can be installed over the wall studs to meet IECC standards.
The benefits of continuous insulation
Buildings comprise 38% of carbon dioxide emissions in the US, according to the U.S. Green Building Council, and 40% of the energy used in the states today. Thermal bridges are a huge contributor to energy loss, an estimated 30% when it comes to buildings. Thermal bridges are sometimes called cold or heat bridges. They are areas in a building's insulation layer that allow for energy loss, whether it's heat or cold. If you imagine cavity insulation systems, which include insulation installed between studs, you can imagine how the studs themselves do not provide the same insulation level. Continuous insulation provides a layer of insulation on the outside of a construction frame that greatly reduces that energy loss, eliminating thermal bridges outside of fasteners and service openings.
The potential benefits of continuous insulation for your commercial construction are many. In addition to reducing thermal bridging, it may increase the life and overall health of your building. Continuous insulation can reduce the risk of moisture damage to your commercial build by decreasing the likelihood of condensation while providing a barrier on the building exterior to protect it from the effects of weather.
Which insulation system is right for my commercial construction?
There are many types of insulation that can be used for continuous insulation. Polyiso, or polyisocyanurate, is a plastic foam with low conductivity, which can also be installed as foam boards or laminated insulation panels. Mineral wool, including rock wool from minerals, and slag wool made from waste materials, are both man-made insulating fibers. Thirdly, spray foam can be applied on the construction surface.
Deciding which type of continuous insulation is right for your project is important, as each insulation type has unique features and benefits. Working with a trusted design-build firm can ensure you have the right team of experts on your side, with the consultative knowledge you need to make the best-informed decisions. Contact us today to get started with our pre-construction services and to get the expertise you need to determine whether continuous insulation is right for your Wisconsin commercial build or which continuous insulation product is best for your Minnesota commercial construction project.