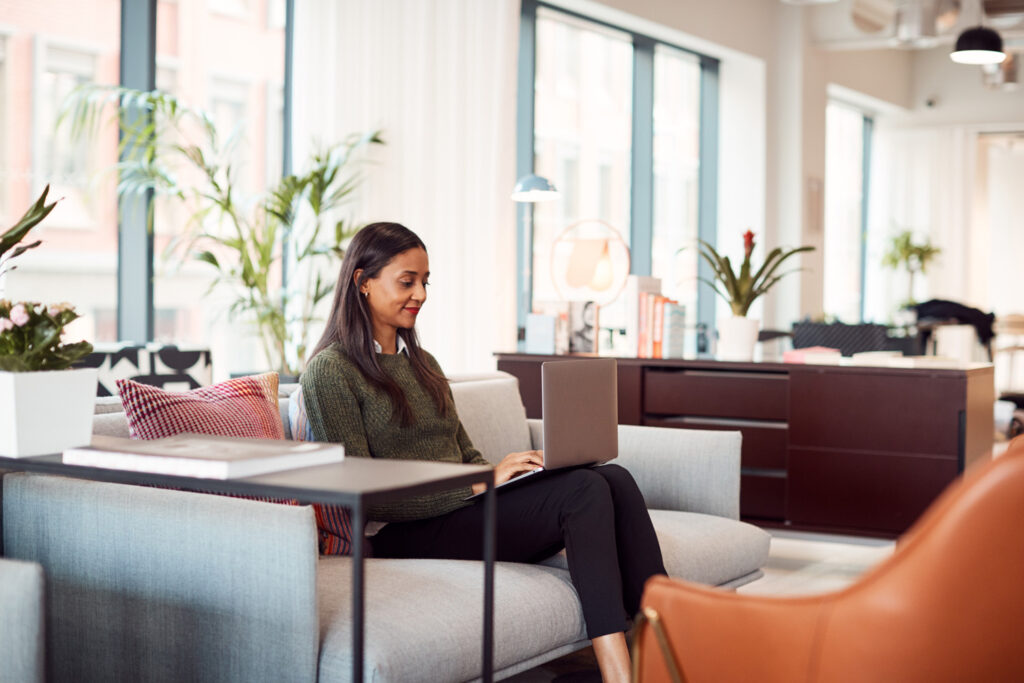 Designing for a regenerative workforce
Building workplaces for the future requires innovation
The modern workforce is changing in terms of what they want, need and look for in an employer. As the COVID-19 global pandemic created a sea change in working remotely, many workers found the lines blurred between work and personal time. Add to that the economic stress, health concerns, children attending school from home and supply chain issues, and forging creative solutions has had to become the norm. Among those, workers are seeking ways to restore themselves, often exploring new working habits and patterns to maintain their resilience in the face of seemingly insurmountable challenges.
Employers are taking note. And as the Great Resignation continues to wreak havoc in companies of all types, it's become apparent that the sustainability of an organization may now become dependent upon designing for a regenerative workforce. Changing workplaces can be challenging, but perhaps the timing is perfect in this liminal space of hybrid working — sometimes remote, sometimes in the office — to reimagine what work looks like.
Redesigning spaces to create a regenerative workforce
When reimagining the workplace, getting started early in the process with the right commercial construction partner is important. With the design-build construction model, you can take advantage of the creative energy that comes with this unique approach, allowing you to truly leverage the power of a regenerative workplace. Here are some of the internal approaches and design choices you may wish to discuss with our design-build team to explore the possibilities for enhancing the office environment.
Gather input from staff so leadership can better understand how employees work and get the job done, the flow of their days and rituals they follow, how they recharge, their connections within the company culture, and the environments where they work. Allowing your teams to define how and where they work most effectively, and giving them the chance to offer creative input so those spaces are designed for their needs, is important. Remember, an ebb and flow of productivity is natural and expected throughout the workday, and sustaining energy levels is a vital part of a regenerative workforce. Be sure to consider the social aspects of their work experience, as well as how they support their mental and physical wellness needs.
When the data has been collected and analyzed, work with internal leadership to deconstruct the way it's always been done and build something new. This something new should provide space that allows for teamwork, cooperation, social connections and self-care as well as productivity. Again, how that looks may be defined differently by individuals; not everyone finds an open-air office conducive to productivity, and likewise, not everyone prefers to work independently. Overall, the goal is to create a workplace that helps staff feel supported, understood, challenged and valued.
Leverage office design to support the flow of your workers. Now that you better understand employee habits, rituals and approaches to productivity, you can use that knowledge to help staff better manage their well-being and energy levels. For many workers, particularly managers and leaders, work-life balance has suffered over the past couple of years. Employers can help employees restore that equilibrium by providing amenities that support a healthy balance of work and well-being.
Encourage self-care with amenities such as on-location fitness facilities with hours of operation that extend beyond the standard workday. For staff who work remotely, you may want to think outside the box and offer wellness initiatives they can participate in.
Explore providing a variety of spaces at the office to allow staff to select where they work best. You may also want to consider spaces for relaxation where employees can recharge and truly be themselves. Some staff may prefer quiet corners while others seek collaborative spaces, and still others prefer a space outdoors in the sunshine.
Think about freedom and flexibility, such as shorter workweeks, flexible schedules, and unlimited leave. Allowing staff to determine how they work best can be very effective for recruitment.
Think about incorporating amenities that help staff know you genuinely care. For some workplaces, that includes making the office family-friendly and offering childcare services.
In today's world, innovation starts with the design-build model of construction
When innovation is this important, it's essential to work with visionaries who can help bring your commercial build to life so you can recruit and retain the best talent. Working with a design-build team changes everything over hiring a general contractor in La Crosse, WI, or Rochester, MN. That's because design-build is innovative from the start, with all stakeholders working together toward a shared goal. Gone are the second-guessing, the blaming between project team members, the rework, and the change orders. Instead, you enjoy a streamlined project timeline that maximizes opportunities and cost savings. Contact us to get started working with a designer who will help you create a regenerative workspace.