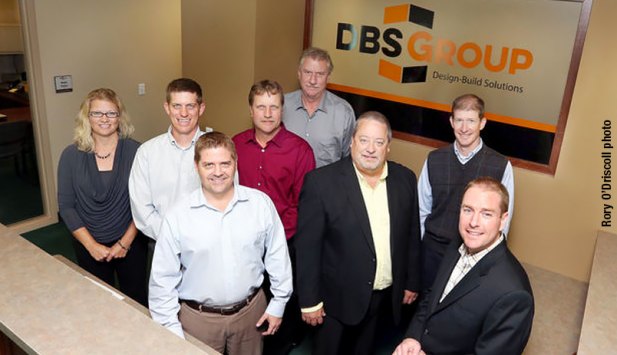 EIGHT FORMER TCI COLLEAGUES START DBS GROUP DESIGN-BUILD CONSTRUCTION FIRM
For years, a group of TCI Architects/Engineers/Contractor Inc. employees had enjoyed working together.
They didn't want to say goodbye when the La Crosse design-build contractor that had begun in 1977, announced July 10 that it would close by the end of the year, with the loss of about 100 jobs.
So the group of eight started DBS Group, LLC, an Onalaska-based design-build contractor, in August.
DBS Group is expected to have about 18 former TCI employees on its staff by the end of 2015, said Chris Walters, president of the new firm.
DBS Group's focus will be commercial projects in the upper Midwest, such as grocery, retail, office, healthcare, industrial, warehouse, hospitality, multi-family and senior-citizen housing projects, Walters said. It has started work on two Illinois projects, a shopping center in Champaign and a grocery store in Girard.
Walters, a former TCI vice president, had worked at that company for 16 years. He was raised near Rochester, Minn., and joined TCI after receiving a bachelor's degree in construction management from the University of Wisconsin-Stout.
"About a week after we learned of the decision to close TCI, the group (of eight) decided to make an effort to get the new company up and running," Walters said in an interview at DBS Group's office. It's in Suite 101 at 2700 National Drive in the Midwest Prairie Business Center, an office complex near The Home Depot store.
"I think everybody that was at TCI landed on their feet and has secured employment elsewhere," Walters said. "Everybody had offers. But we had a group that one, we like working with each other.
"A lot of us have been working together for 10 years or more," Walters said. "So we know each other professionally and personally and have been working with each other long enough that we can kind of anticipate strengths and weaknesses and needs, in order to best serve the projects that we're executing."
"For me, the internal relationship was a huge draw," said Matt Gobel, DBS Group preconstruction manager. "I know that I can come into a setting (each day) where I'm working with guys across the hall that I've worked with for the last 13 years.
"And being able to start a company from the ground up is exciting," Gobel said. "It's been a very interesting last couple months pulling this together."
Beginning a new company presented some challenges, Walters said.
"There were a number of questions we had to answer when we made the decision to start the new company," he said. "One was do we have a customer base that will support a company? Two, can we get all the legal documentation in place? Three, can we get capital and a credit facility to be able to operate the size company that we wanted to operate?
"We also had to figure out where we could operate from and find an office space that would support our operations," Walters said. "We would have to get all the different software systems up and running."
The biggest challenge was accomplishing all those things in a short period of time, Walters said.
"One of our customers had two shovel-ready projects that needed to start," he said of the Illinois projects. "They were scheduled to start on or around Sept. 1. So the big driver for us was to get the company established, running and functioning in order to break ground on these two shovel-ready projects."
DBS Group obtained financing from Merchants Bank for capital expenditures to start the company and a credit facility to finance day-to-day operations, with the help of a U.S. Small Business Administration loan guarantee.
The new company plans to obtain contracts by continuing past relationships and establishing new ones, Walters said.
"A lot of us were long-term employees of TCI, so we had relationships with various customers in the various markets that TCI worked in," he said. "And people like doing business with people.
"So part of our business development strategy will be to continue to maintain those relationships that each of us have with our past customers," Walters said. "And we'll also be networking both locally and regionally to create new relationships."
TCI founding partners Chris Weiss and Jeff Towner have been supportive of DBS Group's efforts "from day one," Walters said.
"We should add that they've been supportive of all employees at TCI, not just this group," Gobel said.
Gobel emphasized that DBS Group is "a local company" that will pursue local as well as regional opportunities. All but one of its initial 18 employees live in La Crosse or Monroe counties.
"Right now, we like the size of the company that we've created," Walters said. "We're a smaller firm, so we can be a little lean and agile. But at the same time, we've got processes in place that kind of drive how we deliver projects."
Long-term, Walters said, "If it makes sense to grow, that would be great – controlled growth. But there's no burning desire to grow just for the sake of growing."
The first three letters in DBS Group's name were derived from the words design-build solutions. As a design-build contractor, its construction team is involved with the design team and the project owner from the beginning of design work.
DBS Group has an in-house design staff that will mostly work on many of its grocery and other retail store projects. The company plans to partner with outside architectural firms for design work on its other design-build projects.
"A lot of us have been working together for 10 years or more. So we know each other professionally and personally and have been working with each other long enough that we can kind of anticipate strengths and weaknesses and needs, in order to best serve the projects that we're executing." Chris Walters, DBS Group