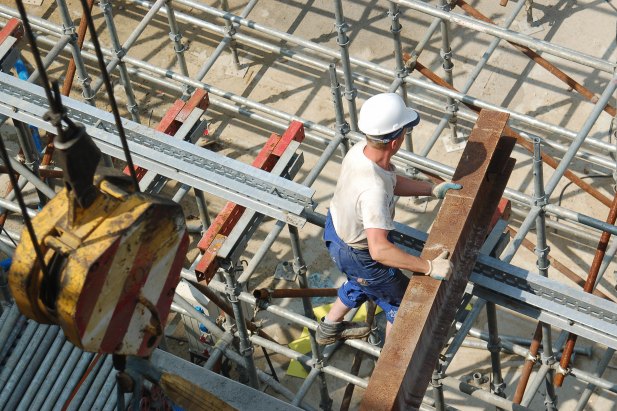 Eight tips to ensure safety at your commercial construction site
Embarking on an expansion project is an exciting step toward growing the footprint of a business. But before the crews arrive, the equipment gets rolling and the footings are poured, it's essential to plan a safe construction site.
Each year, thousands of people are injured or killed in construction zones. And while many of these accidents involve machine operators, just as many involve people on the ground.
To protect your investment and your people, here are some tips to ensure your construction zone is a safety zone, from groundbreaking through ribbon-cutting:
Hire the right team
Hire a construction team that takes safety seriously. This will set the tone about safety through your project. For construction projects that happen on your current business site, the contractor's employees will essentially work alongside your current staff. You want everyone involved to be safe — not just because it's the right thing to do, but because the fallout from a safety issue can be damaging to your company's reputation.
Ask contractors about their safety practices, and consider checking their experience modification rate, total recordable injury and illness rate, and company safety policies.
Show you mean it
Demonstrate management commitment. The management team from both the owners and the contractor must create a clear and visible expectation of safety. Reinforcement of the importance of safety throughout the organization is only achieved through personal accountability, commitment and involvement. The leaders of the organization must take part in the creation of the strategies, systems and methods for achieving high performance in safety. Visible engagement with the workforce is critical. You will achieve the level of safety excellence that you demonstrate you want.
Use the safety gear
Always use personal protective equipment when on site. This is a primary prevention tip. Hardhats should always we born by construction workers as well as worksite visitors and your staff. Other protective gear should also be used as appropriate, including respirators, safety glasses, fall protection harnesses, ear plugs, work boots that are slip-resistant and heavy-duty gloves.
No shortcuts
Sweat the small stuff. When it comes to safety, the details matter, and shortcuts can be harmful. Contractually set the expectation that the contractor's crews take time to clear debris and slippery matter from walking surfaces, including stairs and ladders, and hold the contractor accountable for following through. This will help avoid slips and falls, a common construction site concern. Similarly, hold the contractor accountable for keeping the rest of the worksite tidy. Lastly, does something seem out of place? Say something.
Have a good plan and follow it
Plan the work and work the plan. Facilitate pre-construction meetings with all involved in the project with the goal of discussing tge scope of work tasks and safety measures associated with those work tasks. This is a very powerful work planning and safety tool. So what do you plan for? Anything is fair game. No task is too large, or too small, when it comes to planning and communication. Typical items include timelines related to materials, resources, equipment, employees and subcontractors, notices/posters, signage, emergencies/weather, meeting locations/frequency, material staging areas, hoisting areas, onsite traffic control and parking, material disposal, fire prevention, work at heights, materials handling concerns and crane operation, among others.
Use barricades
Never move barricades. Safeguards are provided for use on the job site for your safety and the safety of everyone in and near the job site. For that reason, resist the temptation to move or destroy any safety barricade. Likewise, it goes without saying, you should never enter a barricaded area. Require the contractor to ensure all dangerous areas are barricaded at all times.
Take care with materials
Be sure materials are stored appropriately. Construction materials can pose a liability if stored in or on public walkways. Ask the contractor to develop a "staging and logistics plan" for staging and storing materials on site during the completion of the work. If deliveries necessitate using public walkways for temporary storage, insist that they are moved onto the site as swiftly as possible. The contractor should also ensure that flammable materials are marked as such and stored separately.
Use the right tech
Leverage emerging safety technologies. According to constructionbusinessowner.com, mobile safety solutions allow individuals to document safety observations using text, photos, video and voice to reduce risk with real-time communication of safety awareness by everyone on the team. Anonymous reporting capability also ensures that more accidents and safety concerns are brought to the attention of senior management. A number of mobile apps are available. In addition, GPS tracking systems can help ensure job site safety and quick response time in the event of an emergency.
Embracing these safety tips can help your crews stay on task and your project on time. More, you'll help ensure your business makes news for its growth and not for a safety issue on your worksite.
Article by Matt Gobel, Preconstruction Manager for DBS Group. Reprinted with permission from River Valley Business Report.