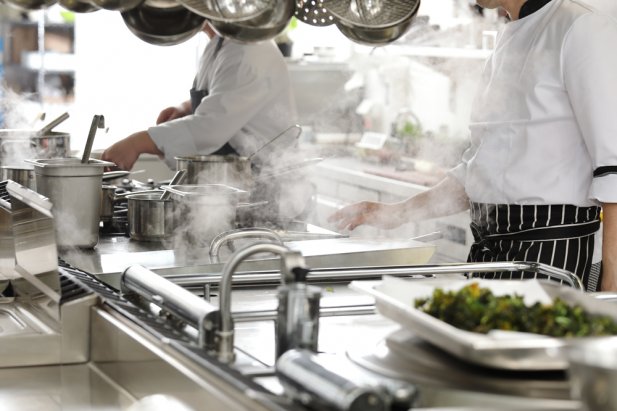 Ghost kitchens get cooking in vacant mall space
Move is due to surging demand for food delivery
At the intersection of food delivery and vacant mall space, a new commercial real estate trend has emerged: the ghost kitchen. As developers seek new life and new tenants for the unused malls of yesteryear, they're finding new opportunities with the food service industry. The catalyst: surging demand for food delivery from a hungry public that wants to order their meals online from the comforts of home.
That food has to be prepared somewhere. And as bricks-and-mortar locations of restaurants struggle to keep up with food delivery demand, some while juggling relationships with third-party app delivery services, ghost kitchens have emerged as an answer. You won't find tables, or a hostess, or even customers here. That's because ghost kitchens exist solely to prepare food for delivery, satisfying this unique e-commerce conundrum.
A growing trend nationwide
Delivery-only kitchens are sprouting up all across the country, including major cities like New York, San Francisco, Chicago and more. Why are ghost kitchens catching on? They satisfy not only the needs of hungry delivery customers but those of delivery services that need parking space to pick up orders and food prep teams who need ample storage space. More, these kitchens have emerged as an affordable solution, costing a fraction of the expense of opening a full-service restaurant.
Converting a commercial space within a vacant mall to a new purpose is possible, but requires careful consideration and the right design-build team. Commercial-grade kitchens require a lot of infrastructure. Upgrades to existing electrical capacity as well as natural gas, water service and sanitary sewer requirements can drive up costs. In addition, commercial kitchens need special ductwork, exhaust and make-up air, as well as fire suppression systems. Layout needs are important to study as well to determine whether commercial kitchen equipment can be connected as needed.
Can ghost kitchens succeed?
With lower overhead than full-service restaurants and greater efficiencies for delivery, ghost kitchens might seem like a sure thing for investors. Yet profitability hinges on order volumes — something that may seem particularly attractive while social distancing measures are in place but could become less stable as cities reopen for business.
These stand-alone food service kitchens are sometimes driven by an existing brand, a restaurant that simply wants its food delivery service housed outside its sit-down restaurant location. Well-known chains, fast food and fast-casual brands are tapping into this trend as well. But in addition to these, entrepreneurs are starting enterprises developed solely for delivery — with no pre-existing restaurant presence or brand. Analysts as well as investors are watching this trend with interest.
Ghost kitchens: an emerging solution
Vacant mall spaces continue to haunt cities in our region and beyond. Ghost kitchens are bringing new life to this valuable real estate, helping owners secure long-term tenants who satisfy the food needs of a seemingly insatiable public. In the end, this solution could serve up success for both food delivery and the commercial real estate sectors.