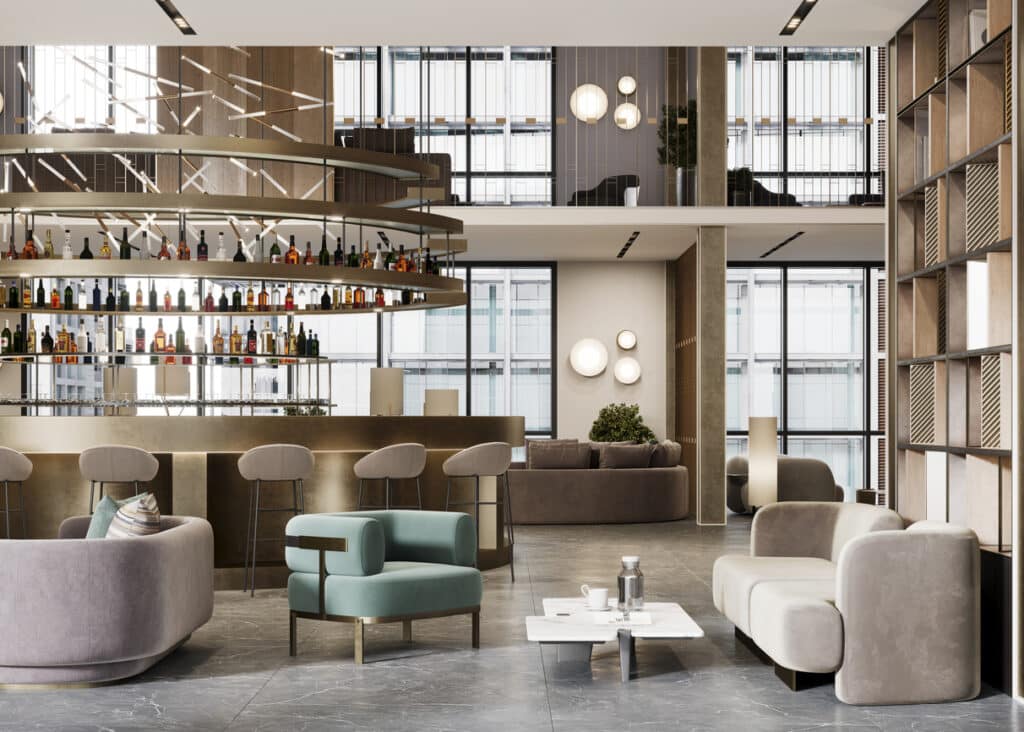 Hospitality industry trends show rebound
Hospitality trends show industry nearing prepandemic levels
Hotel construction trends show promise for 2023
While hotel starts in 2023 will show tepid growth due to the overall economy, the industry is rebounding. In 2022, RevPAR reached record highs, exceeding prepandemic levels, and room starts increased 37.6% after three years of decline. And for 2023, STR and Tourism Economics predict occupancy rates will increase from 62.8% last year to 63.8% and average daily rates will grow from $145 to $151. Industry experts expect growing business travel will offset softening leisure stays, paving the way for upscale and luxury properties to see the greatest gains.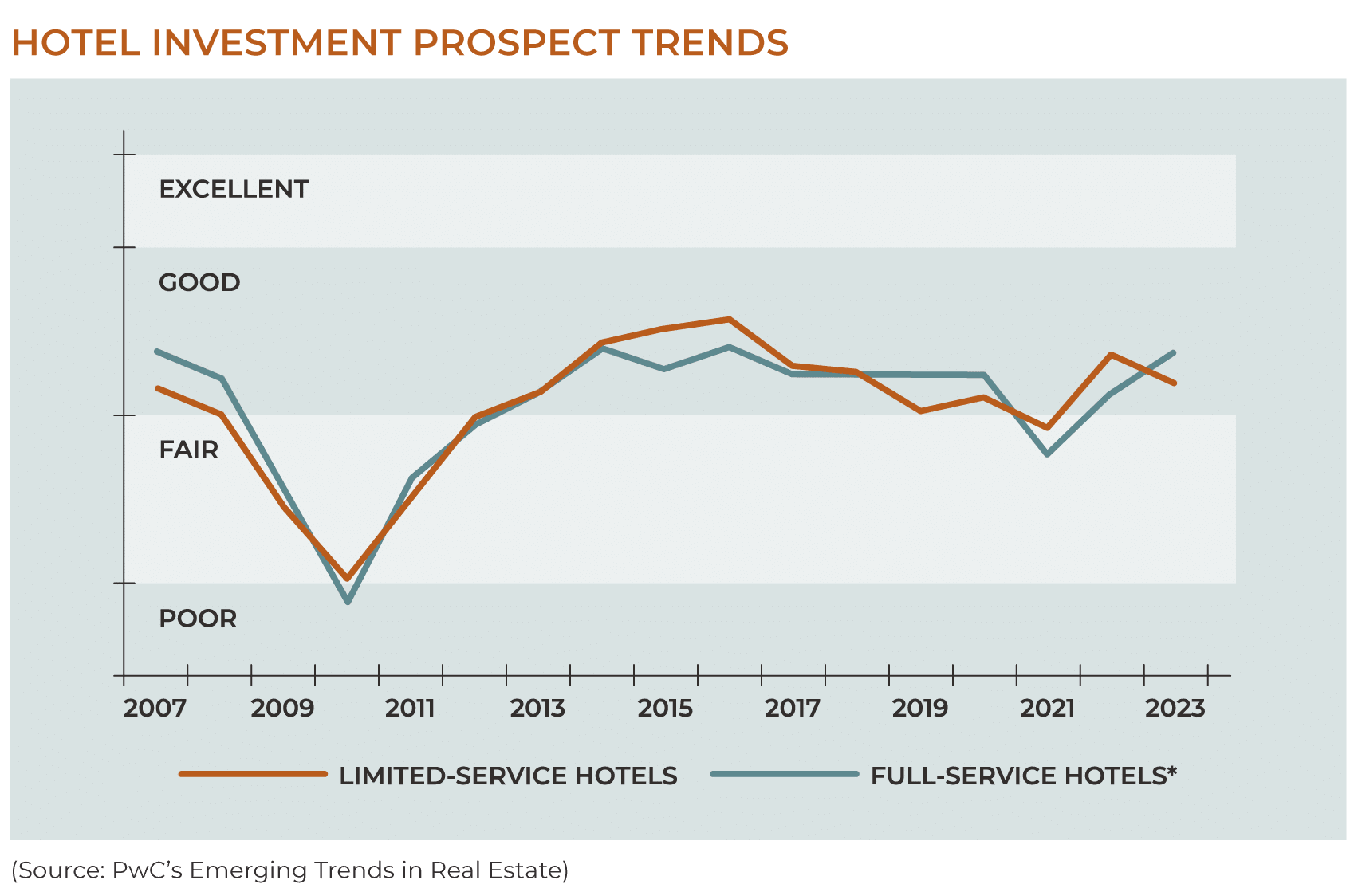 First impressions will mean everything this year, guiding design trends for new construction and prompting many existing hotels to redesign their lobbies. Open lobbies with star restaurants and bars will provide the It Factor. And gathering areas and coworking spaces (goodbye business centers) will draw business and bleisure (business plus leisure) travelers and digital nomads.
Tech amenities will be more important than ever to accommodate these guests while also reducing:
Germ spread, as travelers control room features like temperature and lights from their smartphones.
Reliance on workers, which is especially important with current labor market challenges.
Energy consumption (e.g., automatic lights off in unoccupied rooms).
Some hotels are now adapting gigabit passive optical networks. Using optical cables, GPONs set the stage to accommodate future tech needs without spending a lot of money, and they are 95% more energy efficient than the standard copper wire used in most networks.
Hotel design likely will fall into one of two predominant categories: grand, classic and lavish or funky, novel and fresh. In both cases, luxurious, soft furnishings will be the way to go.
Design and build for:
Biophilia for both sustainability and wellness
Cleanliness and safety
Exercise rooms
Funky and chic or grand and posh facilities
Yin and yang color schemes (warm natural tones embellished with rich hues)
Open lobbies with restaurants, bars, coworking and remote worker spaces and tech amenities
Smart technology, gigabit passive optical networks and digital room controls
Restaurant industry also nearing prepandemic levels
Restaurants still haven't reached pre-pandemic traffic, but they're getting close. Food industry advisor David Portalatin from NPD Group told "Foodservice Equipment Report" he expected 2022 to close at 96% of 2019 traffic. Restaurant owners point to three obvious factors slowing the recovery: labor shortages, supply chain issues and inflation.
The International Foodservice Manufacturers Association predicts an overall restaurant decline of 1%, with quick-service restaurants seeing the smallest decline at 0.8%, followed by casual and fast casual. Midscale dining is likely to see the most significant decline at 2.2%. At the same time, however, IFMA projects growth of 2.4% in onsite segments, partly because they were slower to recover from 2020 and because onsite locations are recession-proof.
Because of the workforce situation, restaurants that automate and integrate labor-saving technologies will likely fare better as the labor disruption continues. And restaurants that offer memorable experiences and feature Instagram-worthy, creative design will likely be among those consumers choose when they do go out, particularly during inflationary periods and recessions.
Portalatin also said digital restaurant orders more than doubled last summer compared with the summer of 2019. As digital orders continue in extraordinary numbers, ghost kitchens, where operators prepare food for off-premises consumption, have become a stable model for restaurants. So we can expect more of those in the future.
Design and build for:
Automation and labor-saving technologies
Extraordinary interiors that consider all the senses
Ghost and dark kitchens
Open kitchens
Outdoor and rooftop dining, including four-season outdoor dining
Sustainable, eco-friendly design and building materials