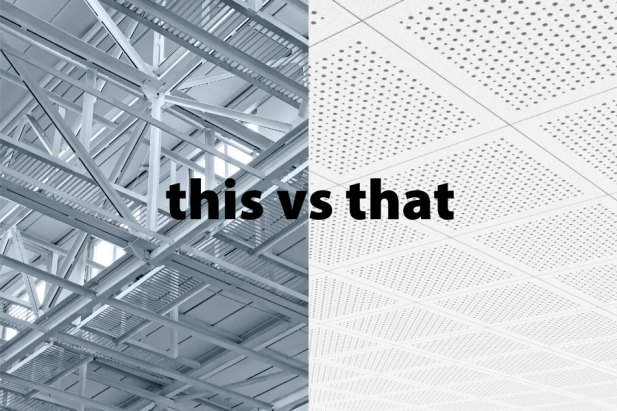 This vs. that: exposed ceiling or acoustical ceiling
Compare the costs, benefits and potential drawbacks of both ceiling types
If you're considering whether exposed ceilings or acoustical ceilings are right for you, you have a lot to think about when weighing your options. An open or exposed ceiling can be an attractive option from an aesthetic perspective but may have some drawbacks. And a suspended ceiling, or acoustical ceiling, might seem more practical from certain points of view, while also having its share of potential drawbacks.
So before you decide whether an exposed ceiling or acoustical ceiling is right for you, let's compare and contrast the two.
Examining the finer points of differing ceiling styles
Considerations for exposed ceilings
Are aesthetics important for your space? You may be able to embrace a modern look for your space with exposed structure and mechanical systems as a feature.
You may be able to install skylights to increase natural lighting indoors.
Your space may actually feel bigger, as the ceiling will be higher and give the perception of more room.
You have the option of incorporating unpainted or painted ceiling structure and mechanicals, providing options for interior design colors.
Circulation of air needs to be taken into consideration, both for occupant comfort and heating and cooling efficiency, as warm air rises in an open, exposed ceiling structure.
The cost of creating that modern, open look may be higher than you expect. Additional material and labor costs can be required to incorporate clean and organized ductwork, plumbing piping, electrical conduit and low voltage wiring that will be exposed.
Additional consideration will be types, quantities and layout for lighting systems, as they are suspended from the roof deck in an exposed ceiling concept.
With exposed ceilings, you will need acoustical treatment, such as acoustical roof decking, spray-on acoustic material and/or suspended acoustical treatments, or noise and echoing can be an issue.
You may have a lower materials cost than an acoustical ceiling.
Cleaning needs are greater than they are for acoustical ceilings, as exposed structure and mechanicals will collect dust over time, requiring periodic cleaning.
Considerations for acoustical ceilings
Suspended ceilings can be more cost-effective and generally require less maintenance than exposed ceilings.
Suspended ceilings can provide more flexibility in the type and routing of ductwork, plumbing piping, electrical conduit and low-voltage wiring.
Suspended ceilings tend to offer better acoustics and reduce noise from outside and above the space.
Your space may feel smaller, as the suspended ceiling is lower than an exposed ceiling.
Suspended ceiling systems can hide ductwork, piping conduit and low voltage wiring, requiring less painting and maintenance than exposed ceilings.
Suspended ceilings can provide fireproofing and allow for additional fire barriers if required.
Installation of suspended ceilings is relatively quick and easy and may only minimally interrupt office work.
Energy bills may be lower with a suspended ceiling versus an exposed ceiling, as the occupied, temperature-controlled space is smaller.
A suspended ceiling can hide issues lurking in a property. When you're in the market to buy an existing property, be sure to inspect areas above suspended ceilings.
Suspended ceiling tiles may sag over time, and they may also discolor over time, requiring regular maintenance and replacement.
From a materials perspective, suspended ceilings may be higher in cost than exposed ceilings.
Exposed or suspended? The ceiling choice is up to you.
Choosing the right ceiling for your space is not a decision to be taken lightly, and there are several factors to consider. What is the look and feel you want? What is the occupied use of your space? How does that impact heating and cooling costs? And what's your budget in the short and long term? Hopefully, with help from the points detailed above, you'll be better able to determine which ceiling system is right for you.