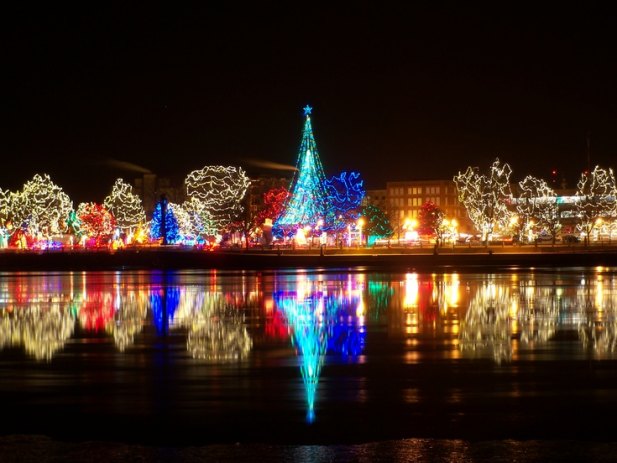 5 Reasons to Love the Coulee Region During the Holidays
Sure, Rockefeller Center in New York has a big tree. And yes, there are some spectacular Christmas markets in Germany. But for our money, there's no place like home for the holidays, and the Coulee Region has as much holiday cheer to offer as any place on the map. In fact, there are so many reasons to love La Crosse and the surrounding areas this time of year, we thought we'd share just a few of our absolute favorites.
Here are five reasons to love the Coulee Region during the holidays.
#1 Rotary Lights. The world over, there's nothing quite like Rotary Lights in La Crosse. For 22 years now, Rotary Lights has provided fun for the whole family, while collecting food and monetary gifts for those in need. This year, the annual holiday lights extravaganza at Riverside Park kicks off on November 25, and runs through the end of 2016. Featuring entertainment, hay rides and horse-drawn carriage rides, live reindeer and the jolly old elf himself, it's hard to believe this incredible event is free. This year, bring your skates! For the first time ever, there will be an ice rink at Rotary lights; just when you thought it couldn't possibly get any better.
#2 The Canadian Pacific Holiday Train. Gather at the Amtrak Depot in La Crosse on Wednesday, December 7 at 8:45 p.m. to watch the train roll into town. Now in its 18th year, the Holiday Train travels through the U.S. and Canada to spread holiday cheer and fight hunger. Bring cash and food to donate to The Hunger Task Force, to help those in need in the region. You'll enjoy free cookies and cocoa, holiday performances and an appearance by Santa Claus.
#3 Holiday music everywhere. It's like a Rockwell painting this time of year in the Coulee Region, so it stands to reason that everyone seems to get into the spirit of the season through song. From the 19th Annual Happy Little Elves children's concert with Hans Mayer, to the La Crosse BoyChoir Holiday Concert, to the La Crosse Chamber Chorale sing-a-long, Oh Great Mystery – The Advent Hymn Sing, and the Onalaska High School Sleigh Ride Show Choir Concert, you can toe-tap, twirl and sing carols to your heart's content in the Coulee Region.
#4 Norskedalen's Old Fashioned Christmas. It's easy to get swept away by the pace of the holiday season; thank goodness we have Norskedalen to help us reset. Experience Christmas the way it used to be at the Old Fashioned Christmas. You can make ornaments with the help of a blacksmith, tour Norskedalen on a horse-drawn wagon, munch on tasty Norwegian baked treats, sing carols, go sledding and savor holiday goodness at its purest. There's even a holiday dinner you can attend. It all happens December 3.
#5 Red Kettles and bell ringers. There's so much in the world that can make a person cynical, but nothing restores our faith in humanity like seeing an enthusiastic bell ringer standing in the cold to raise money for those who are less fortunate. The Salvation Army Red Kettle campaign involves more than 30 kettle stands throughout La Crosse County, and more than 50 mini counter kettles. This year, the organization hopes to raise a million dollars to support programs and services offered at the Salvation Army of La Crosse. The effort requires filling thousands of shifts. To volunteer to join the legion of bell ringers, simply register on the Salvation Army website.
These are just a few of the reasons we love the Coulee Region during the holidays. No matter how you prefer to get your dose of holiday cheer, there's bound to be an event in the La Crosse area that puts you and your family in the holiday spirit.
Photo credit: RotaryLights.org