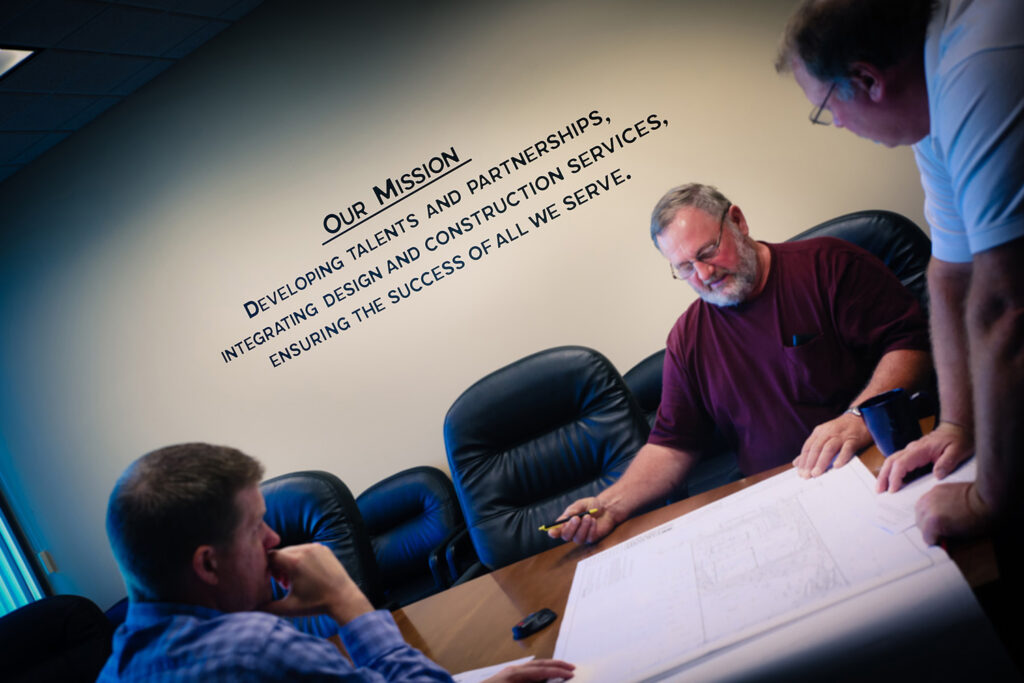 Communication: the key to commercial construction success
Here's how design-build project delivery improves communication
The design-build project delivery method is forging inroads to improved communication throughout the commercial construction process, from concept through ribbon cutting. And the effects are a breath of fresh air over the antiquated design-bid-build model of project delivery. That's because at the heart of the design-build model of construction is collaboration. At DBS Group, we're honored that our clients choose us in part for our focus on excellence in communication, as it's proven to be an essential component of doing the job right.
Projects that stall and fail oftentimes have miscommunication to blame — and the circle of communication for a commercial build is wide. With a traditional design-bid-build model, an owner has to communicate with multiple parties, including the designer, the contractor and specialty vendors, each of whom is engaged in different phases of the project — essentially roadblocking collaboration. It can feel like a game of telephone at times, particularly when the project is over budget, gets off schedule or there's a delay in deliverables.
Imagine instead a collaborative environment. One which operates as a single team, all working toward your project's success from the onset of design. That's the difference the design-build model makes, and much of the success can be attributed to communication.
Communication is different with design-build
Communication is fundamentally different when it comes to design-build, and that is abundantly clear for any owner/builder who pivots to this model. But how does communication work differently within the design-build model of project delivery? And from a communications standpoint, what can owners expect throughout the process? Read on to see the difference design-build can make.
All project stakeholders are integrated early
Design-build calls for collaboration and teamwork from the very start of a project. To that end, all project stakeholders are integrated early, working toward a shared vision from the beginning. Accountability is owned by everyone on the team, from designers, to contractor to specialty vendors, so transparency and communication is the norm, from day one.
Change orders are virtually eliminated
We all know change orders can adversely impact your project pro forma. When multiple team members are working on a project independent of each other, communication can fall to the wayside — and that results in change orders. When everyone works on a single design-build team, there's deliberate sharing of information, and we work with transparency. The project team communicates early and often, anticipates potential project challenges and proactively addresses those challenges before they can adversely impact the project. In the end, the owner benefits from this unparalleled collaboration by experiencing better control of project costs. If something does go wrong, you can rest assured you have a single source of responsibility to make it right.
One team = one timeline
When separate team members under separate contracts work on the same project, they typically do so consecutively, and information is siloed. If one team member gets off track, your project can get off timeline fast. Worse, critical path timelines related to approvals, permitting and material and equipment lead times can be overlooked, adversely impacting the project schedule. But with design-build, our team can work concurrently on different portions of the project, streamlining the work that needs to be done. The result is your project adheres more fully to the production timeline, minimizing scheduling surprises and speeding toward completion. If you want faster project delivery, design-build is essential.
One call for it all
Communicating with multiple entities can be complex, and there's no guarantee they're talking to one another, so guess who fills the gap? You. When you work with separate parties on your commercial build, you have to communicate with all of them individually throughout the project schedule. It can be tiresome, time-consuming and frustrating. But with design-build, you have a single point of contact for all of your project needs, reducing the administrative burden on you and your team. It simplifies communication throughout your project lifecycle, so you can spend your limited time where you are most needed.
Design-build for better communication
As an owner/builder, you know firsthand the importance of communication in commercial construction. With the design-build model of project delivery, a single, collaborative team takes your build from concept to completion, with improved communication throughout every phase of the project. Is it time to consider design-build for your next commercial construction in La Crosse or Rochester? When you're ready to learn more about how design-build can work for you, contact us, and we'll show you the design-build difference.