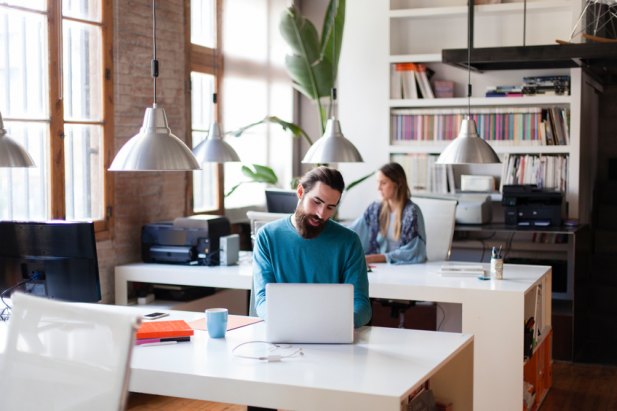 Coworking Spaces: What are they, and are they right for you?
For the rapidly-changing face of the modern workplace, building owners are increasingly looking at coworking spaces when it's time for office construction. Coworking spaces offer an opportunity for those who often work independently—such as freelancers, remote workers and small business staff—to do their work while connecting with and learning from others in similar situations.
Coworking spaces are social, collaborative and often informal, frequently built upon cooperative principles. Other coworking spaces are more real-estate focused, offering valuable desk space and office amenities to individuals who want the benefits of a coworking space or need to escape the distractions of working from home.
An Investment Opportunity
For investors, the coworking space trend offers an interesting business opportunity. Often described as an office in a cafe, they hold tremendous appeal for the millennial workforce, which studies show craves teamwork and cooperation but isn't bound to a desk due to technological advances. The sense of openness and connectedness of coworking is a draw for this demographic, which is now the largest population segment in the United States.
Exploding Popularity
More than 2,000 coworking spaces exist around the world today, and most include a minimum number of amenities such as ergonomic office furniture, wifi, access to printers and copiers, a coffee machine, bathrooms and basic kitchen facilities. They have also begun to expand to meet workers' other needs, with some incorporating childcare facilities and other amenities.
Pricing Packages
Coworking is meant to be both flexible for workers and affordable, and most offer a variety of pricing packages to suit different member needs. The coworking business model works well in particular for small businesses that can't afford long-term commercial real estate leases. For owners, setting a pricing package will require research about the market value, existing regional coworking spaces and the potential target markets in the area.
Special Considerations
Like any office construction or business opportunity, there are a number of factors to consider beyond the initial research into feasibility of a coworking space. Once you've decided to make the leap, you'll want to market to your target audience, carefully select a location that appeals to that market, then settle on interior design, branding and the community culture you hope to form, as well as events and education that will be offered, if any. And of course, you'll want to consider how members will sign up and how you will manage billing.
In the end, a coworking space is much more than leased office space, it's about creating a business space for great work to be done while helping today's mobile and flexible workforce find a sense of community.