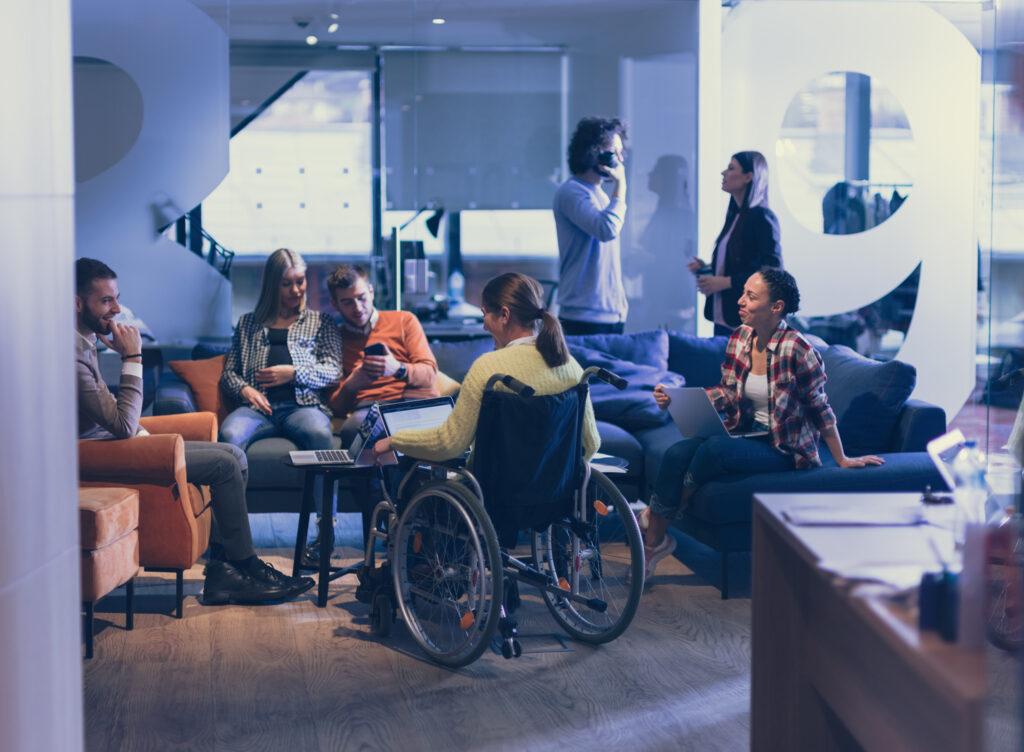 Creating inclusive workspaces
Designing for inclusivity requires looking at the build from varying perspectives
In today's hiring environment and rapidly-changing world, as organizations realize the benefits of diverse workforces and as company needs shift, many organizations are looking for ways to create more inclusive workspaces.
This approach allows companies to design and build in a way that attracts new top talent from diverse backgrounds while developing a workspace that is not just accommodating but allows people to perform at their best and support your customers well, whomever they may be. When it's time for a comprehensive redesign or a new build, inclusivity may be on your wish list for your commercial construction for myriad reasons.
Demographic considerations for designing for inclusivity
But how exactly can you create a workspace that is inclusive and meets those goals? It requires careful thought and planning and a keen eye for details. Inclusive design may consider many demographic factors from age to faith tradition, to physical capabilities and mental health. Each of these and other demographic factors feeds into an individual's experience in a workspace. Engaging your design and build construction firm early in your planning process can yield greater flexibility and opportunity to design for inclusivity, not to mention a chance to take advantage of complimentary preconstruction services like those we offer at DBS Group.
Here are some of the ways you might pursue greater inclusivity with your next design-build project.
1. Design for true collaboration.
Collaborative areas are essential for inclusivity. But it's also important to consider how individuals gain access to and use the space. For example, is the counter height too high for some to reach? Would someone with a hearing impairment be able to function in the space? Does the space lend itself to extroverted workers more than introverted staff? People think, create and function differently, so creating collaborative spaces that are suitable for everyone requires considering many different perspectives.
2. But don't forget quiet spaces.
While places to gather are important in inclusive spaces, quiet spaces are important as well and may be valued by specific team members even more. It's all too easy to believe that everyone works best in the same type of environment as we do ourselves, but workplaces that think about inclusive design as a way to ensure productivity for everyone can yield real benefits.
3. Select flexible solutions.
Flexibility that is built into the design of your office or other workspaces may have greater longevity than spaces built for current trends or solely immediate needs. That can include the layout of your spaces, the furniture you choose and more. In addition, flexibility can make your office adjustable to a changing workforce, so as employees age, turn over or become differently-abled, your space can be responsive to those shifts.
4. Engage others in your design phase.
Engaging the community and staff early in the process can help you better understand what people truly appreciate — and likewise, don't need — to feel welcomed and safe in the environment. Comfort also plays a role in inclusivity, and the differing perspectives are bound to be eye-opening as you embark on your commercial design.
5. Think equity.
Not everyone experiences a space in the same way, so it's important to not only think about accessibility standards but to consider designing a space that seamlessly incorporates solutions that provide an equitable experience. Taking care not to single out differently-abled individuals requires a level of thoughtfulness and planning that a design and build team can help provide. In the end, the goal is to build so that the space works for everyone.
Creating for inclusivity starts with design and build
If you're considering designing a space for inclusivity, the design and build model of construction may be the perfect choice. With design and build, everyone who works on your commercial construction project is on the same team, implementing your vision. Gone are the common pitfalls and costly mistakes that can happen with other commercial general contractors. Instead, you'll enjoy fewer change orders and a unified team with one goal in mind: to make your build come true.