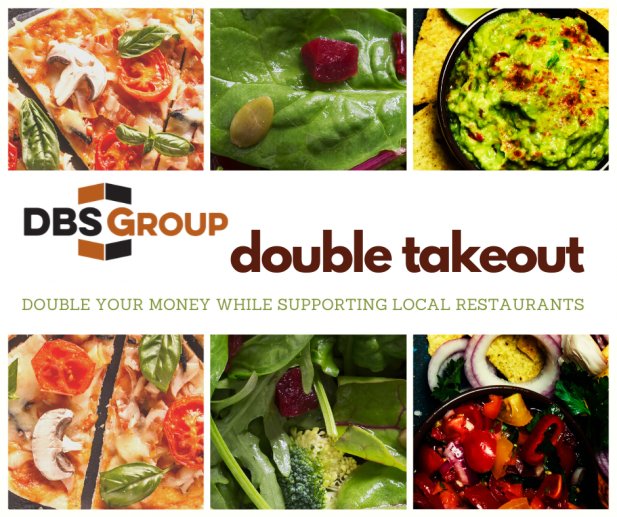 DBS GROUP OFFERS DOUBLE TAKEOUT GIFT CARD MATCH FOR LOCAL RESTAURANTS
Double your money while supporting local restaurants during Safer at Home
At DBS Group, we want to help area friends and customers in the restaurant industry maintain business operations through the COVID-19 Safer at Home order, so we're going to double your money when you order takeout from select local restaurants during Wisconsin's Safer at Home order.
Each week on Thursday, Friday and Saturday, DBS Group will match your takeout orders with a gift card of equal value at three area restaurants to double the value (up to $1,000 per restaurant; $500 for restaurants with more than one location). Two of the restaurants each week will be selected by DBS Group. The third will be selected by you.
You can nominate any local restaurant where you want DBS Group to double the value of your purchase with a gift card that week by naming it in the comments on our Facebook page. Only one vote per person per week. We encourage you to tag the restaurant you nominate to generate more votes for it, but tagging is not required. The restaurant named most often in the comments will be the third restaurant where DBS Group will double the dollars on the gift card for that week.
See full rules below.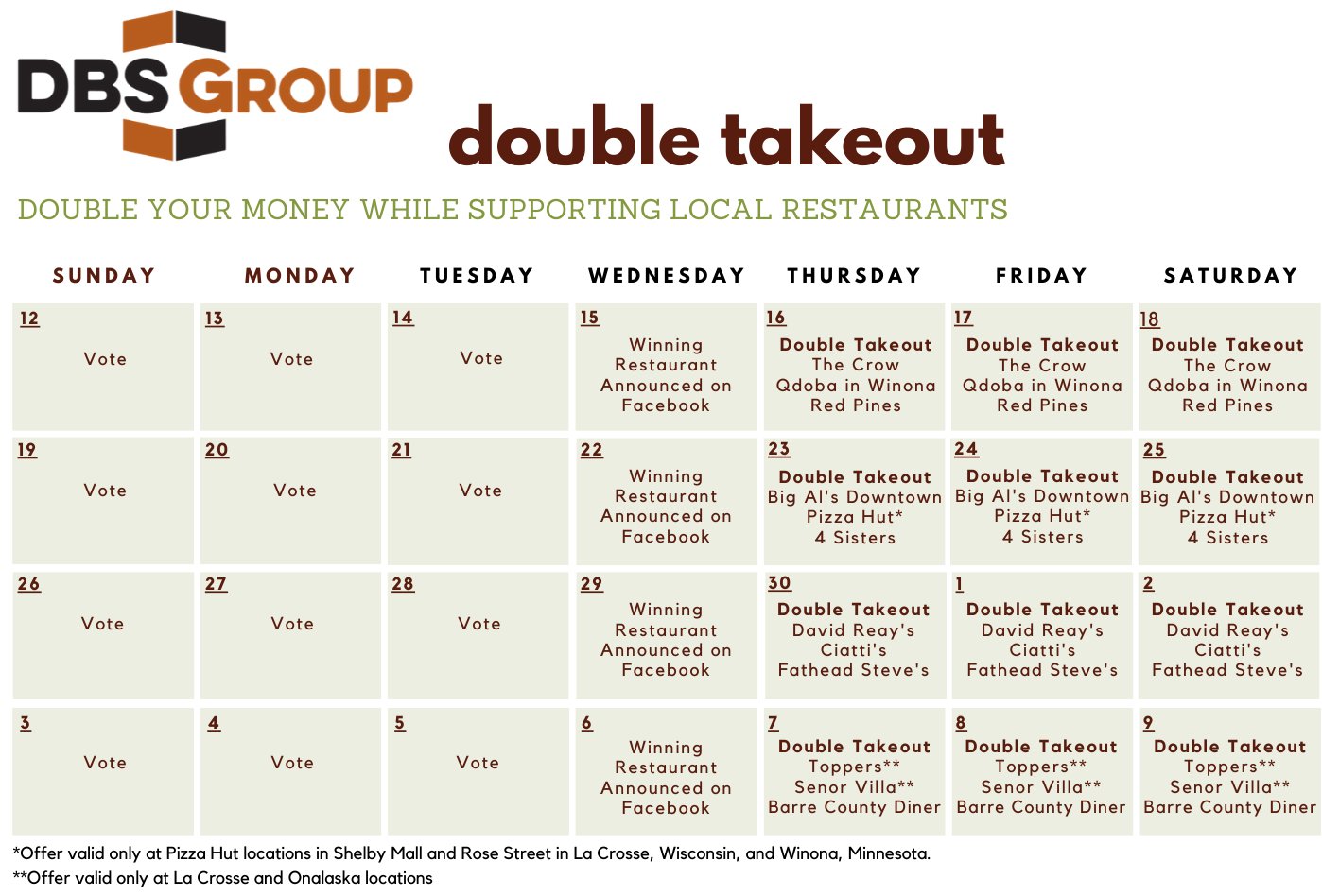 DBS Group Double Takeout Restaurant Selection Rules:
Each restaurant must be located within a 30-mile radius of La Crosse, Wisconsin.
Some restaurants have multiple locations, so purchasers must pay specific attention to locations that qualify for the promotion.
Each restaurant may win only one time during the promotion, and different restaurants will be featured each week.
One vote per person per week.
The promotion begins April 10, 2020, and a new nominating process will begin each Sunday through April 2020. Nominations will close on Tuesdays, and restaurants participating in each weekend's DBS Group Double Takeout will be announced on Wednesdays. Selected restaurants' purchases will be doubled each Thursday, Friday and Saturday, ending on May 2.
By participating, you agree to allow DBS Group to use any content contributed by you as part of the contest for promotional purposes.
Contest is void where prohibited.
This promotion is a service of DBS Group; Facebook is not a sponsor.
DBS Group Double Takeout Gift Card Rules:
Purchaser must order takeout or delivery directly from the restaurant and say they want the "DBS Group Double Takeout." The restaurant will match the value of the purchase, before tax and gratuity, with a gift card of equal value.
First come, first served. Once the restaurant has matched up to $1,000 in gift card purchases (or $500 for those with multiple locations participating) during their DBS Group Double Takeout days, the promotion at that restaurant ends.
All individual restaurants' gift card terms apply.