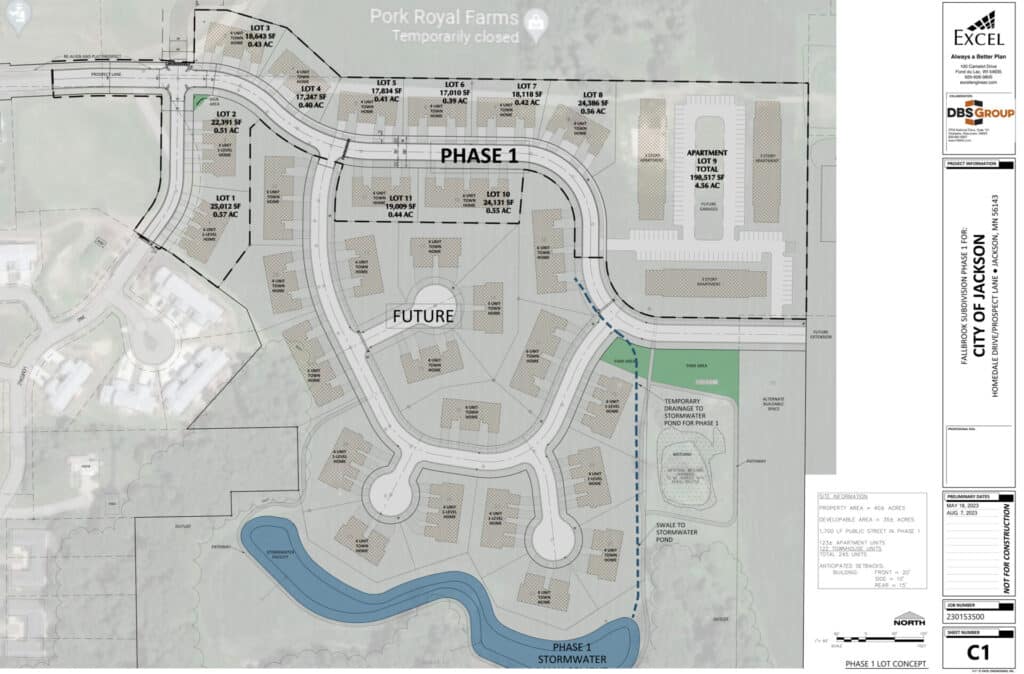 DBS Group selected as construction manager for Belmont Heights infrastructure
The City of Jackson, Minnesota, has selected DBS Group to serve as construction manager for the Belmont Heights subdivision infrastructure work. The project involves the development of approximately 40 acres for a much-needed housing subdivision in the community.
The infrastructure improvements include mass grading and building stormwater facilities, water, sanitary sewer, storm sewer, city streets, and sidewalks.
Phase 1 of the subdivision improvements encompasses 1,697 linear feet of city street improvements that will serve a 4.56-acre multifamily outlot slated for multiple medium-density, market-rate apartment buildings. Phase 1 also includes ten lots for townhomes, for a total of 165 new living units within Phase 1.
Infrastructure improvements in Belmont Heights are already underway, and substantial completion is scheduled for summer 2024. The first phase of housing development is currently in the planning stage, with construction expected to begin in spring 2024.
"Our team's selection for this important community project underscores our commitment to serving the incredible communities in the Upper Midwest," said DBS Group President and CEO Chris Walters. "The need for new housing in Jackson is pressing, and we're honored to contribute our skills and expertise to address this community issue."