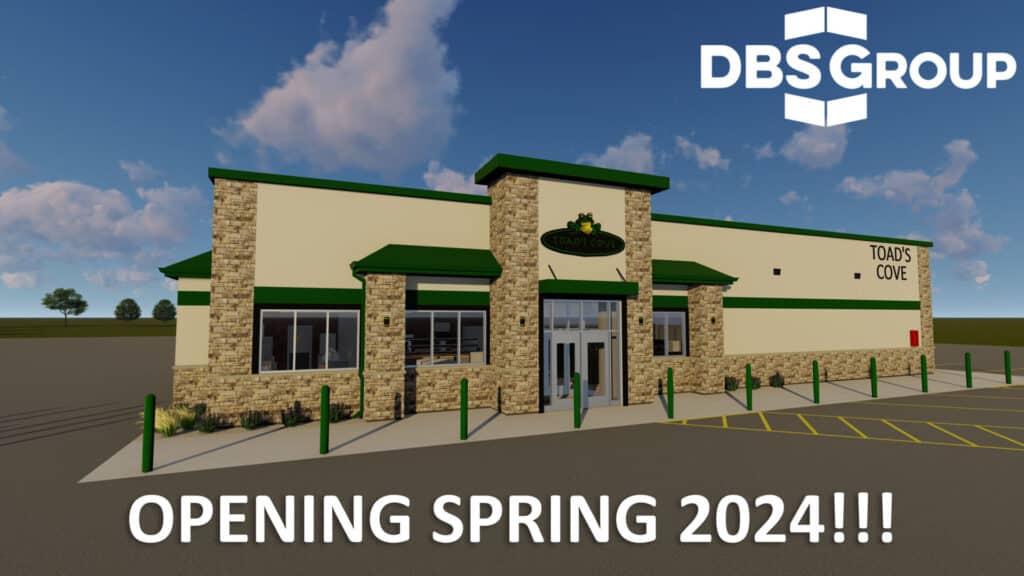 Toad's Cove begins rebuilding after May fire
When a fire last May destroyed Toad's Cove convenience store in the Centerville community in Trempealeau, Wisconsin, owners Andy and Tracy Todd pledged to rebuild with hopes of reopening within a year. On Nov. 6, 2023, they took a tangible step toward realizing that pledge, breaking ground for the rebuild of the Toad's Cove convenience store. The updated Toad's Cove is scheduled to reopen two days before the anniversary of the fire.
The Todds partnered with DBS Group of Onalaska, Wisconsin, to design and build the new convenience store, in part, Andy Todd said, "because of DBS Group's experience, expertise and track record for finishing projects on time. That's important to Tracy and me and our community. The town needs its meeting place back," he said, referring to Toad's Cove's reputation as the place in town to pick up a gallon of milk as well as the friendly conversations in the small community.
The new 5,688-square-foot store will include a commercial prep kitchen for a variety of prepared food selections, along with a fresh, gourmet popcorn station and an ice cream parlor station featuring 16 flavors — all available for pickup with the convenience of a drive-thru. The new store will also continue to feature a walk-in beer pad for beer and a walk-in beverage pad for beverages.
"We're grateful to be part of a project like this," said DBS Group CEO and President Chris Walters. "We're not just reconstructing a building; we're reviving an important part of the town. It's a building that will live up to the meaning of a 'convenience' store in every aspect of its design and operation while also serving as an important hub of the community it serves."