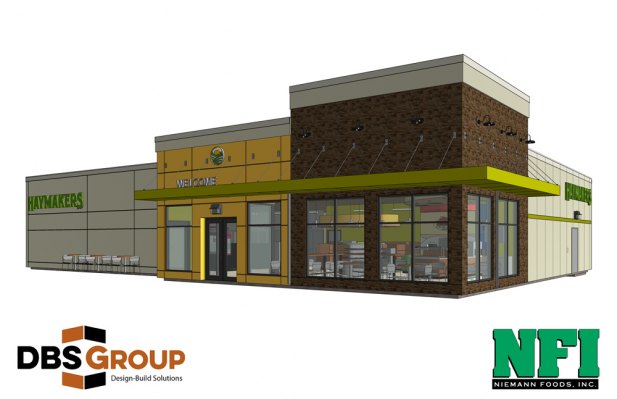 DBS GROUP TO BUILD NEW HAYMAKER'S STORE
DBS Group is partnering with Niemann Holdings on a new, ground-up Haymaker's convenience store replacement project in Pittsfield, Illinois. The 5,200-square-foot full-service convenience store project incorporates an updated Haymaker's prototype design and features a gas canopy, diesel canopy, outdoor patio seating, indoor dining seating, beer cave, yogurt bar, beverage bar, coffee bar and hot and cold food island.
The updated prototype calls for a larger building footprint to enhance the store layout and improve the customer shopping experience. Other prototype improvements include revisions to the exterior facade and a change to a wood-framed building structure to provide clean building lines and an economical building shell assembly.
DBS Group also collaborated with Niemann Holdings to develop a project phasing plan that maintains the operation of the existing convenience store and fuel pumps during the construction of the new Haymaker's. Construction is scheduled to begin March 1, 2017 with a store opening scheduled for late-summer 2017. DBS Group is providing store planning services, architectural and engineering services and construction services for this project.