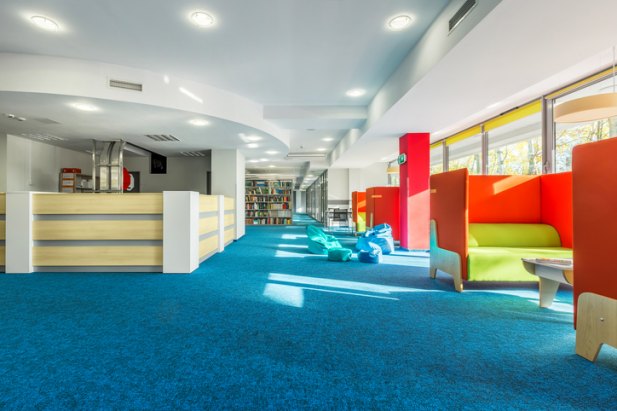 How to Design Your Workspace Construction for Maximum Productivity (Hint: Design-Build can help!)
When designing your workspace construction, one of the most important considerations—if not THE most important consideration—is making sure it allows your staff to maximize their productivity. Of course you want your customer-facing spaces to be inviting and professional, and you want your employee spaces to be functional as well as comfortable for those long days, but getting work done is a top-most concern and one that can be addressed even during the architecture and design phases of construction. It turns out, experts say the design of an office can play a huge role in productivity.
Here are three strategic building design ideas to consider to maximize workspace productivity.
Shed some light on your design.
Great lighting can lead to greater productivity. According to thereceptionist.com, poor lighting can wreak havoc on your employees' eyes, while possibly raising stress levels and causing headaches. Put it all together and you've got lower productivity. Improved natural lighting is especially beneficial, according to the article, as it can boost mood and help your staff get a good night's rest. In a pinch, indirect lighting can ease eye strain while still keeping things sunny. Also consider adjustable task lighting within individual workspaces, meeting rooms and conference spaces to optimize individual and team productivity.
Increase activity levels by constructing active spaces.
According to inc.com, when you design a space for the physical activity of workers, you provide a beneficial physical and mental stimulus. But creating active spaces doesn't necessarily mean you need to build a fitness center on campus. Instead, think about how you're including stairs in the design of your building and whether you're encouraging walking meetings with spaces that accommodate movement. According to the article, the average worker spends ¾ of the workday sitting down; by encouraging them to get moving, you're promoting innovative thinking instead of sluggishness. You may also want to consider adjustable desks and conference tables to encourage movement, as well.
Shake things up with agile office design.
Don't want your employees to sit in one spot all day? Consider creating agile workspaces. Gone are the days when staff are forced to sit in a cubicle all day; smart organizations are designing buildings with common areas or hubs, quiet spaces for solo work or private conversations, and conference rooms in common areas. The outcome? According to fastcompany.com, private nooks near common areas encourage quick conversations when they come up at the copy machine; constant activity inspires the mind; and employees feel more comfortable being able to move about the space and find the areas that fit the tasks they're tackling.
Enlist a design-build team to make your office productivity dreams come alive.
Whether you have some solid ideas in mind for the workspace you want to design and build, or if you're looking for a team of experts to guide you through the process of creating an office environment with an eye toward productivity, a design-build team can help. From start to finish, from vision to reality, design-build teams streamline the construction process as a single unit, virtually eliminating change orders and minimizing the resulting delays. More, with a design-build team you'll have a team that works toward your goal together, in tandem, ensuring a productive construction initiative while realizing your workspace productivity dreams.
To see what's trending in office design, see our 2017 Trend Report.