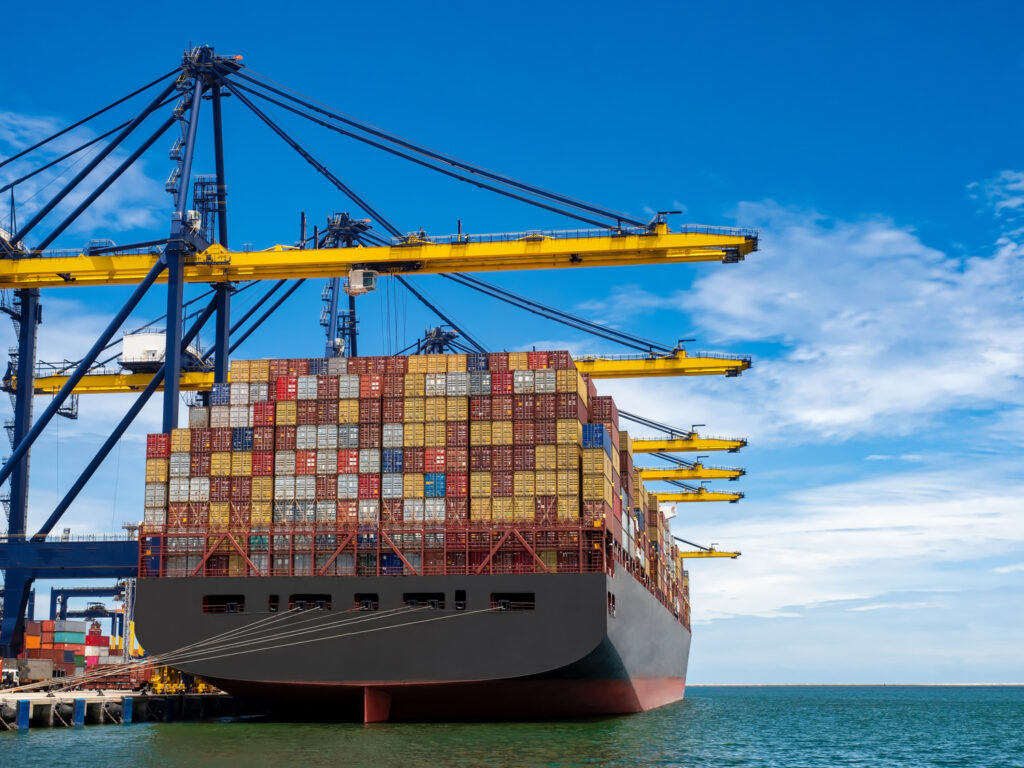 Material lead times and cost increases impact commercial construction
Owner/builders should plan projects earlier than ever
Equipment and material lead times and cost increases continue to impact the commercial construction industry. The good news is you can mitigate some of these increases by thoughtful planning in the very early project stages. How early? Earlier than ever, say our design-build experts. That means if you're hoping to break ground on a project this fall, you're already behind the 8-ball. So to secure the best product pricing and availability, it's more essential than ever before to start planning well in advance.
Commercial construction trends of higher pricing and longer material lead times are multifactorial, and they will likely have an enormous impact on any commercial builds in the near future. So both of these issues are worth exploring further — not just to better understand the factors at play, but to take advantage of any opportunities you might have as an owner/builder to minimize these potential challenges.
Material lead time issues continue — here's why
First, let's take a closer look at what is slowing the availability of materials, the realities of lead times and steps you can take to potentially bypass lead-time extensions. Demand for building materials remains robust while the world continues to push through the global pandemic. Our global economy, in tandem with a lingering global public health crisis and destabilization of peace in Eastern Europe, has resulted in an unfortunate chain reaction that's driving longer production and delivery timeframes right here in the Upper Midwest.
Lingering effects of the pandemic, and the associated mitigation efforts, have impacted the production of materials and equipment through factory slowdowns, factory shutdowns, and quarantines.
Workforce shortage — businesses across the globe are struggling with the inability to recruit and retain the needed number of workers to produce and deliver their products.
Supply chain disruption — U.S. ports are backed up for taking delivery of products imported from overseas, and there's a shortage of trucking equipment and truck drivers to deliver products once they arrive on our shores. Consumer behavior is also playing a role in supply disruptions and volatility. Even a small blip in the supply chain can result in consumer stockpiling, leading to shortages and price increases. We saw this play out in the lumber sector recently. Builders who feared a shortage stockpiled supplies, leading to a greater shortage, higher costs and eventually increased production of lumber.
Before COVID-19, it may have been possible to obtain materials on relatively short notice. These days, however, we're looking at a much longer timeframe for the time between ordering materials and their delivery to the project site — a trend affecting nearly all construction materials.
Here are some examples of commonly used materials and how their lead times have changed since pre-pandemic realities.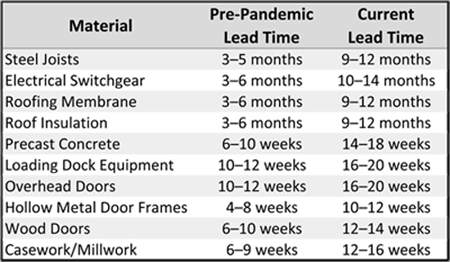 Proactively planning for the design, preconstruction and material procurement for your project can help ensure materials arrive in time for the construction of your project.
Commercial building supply cost increases
From the pricing perspective, commercial building supply cost increases can also be traced to several influencing factors. Let's drill down.
Inflation has commanded the headlines recently, with investors keeping a wary eye on this potentially game-changing factor. Inflationary pressures historically affect both materials and labor.
At the same time, supply chains show significant signs of weakness, shipping containers have come with a new set of headaches — namely, financial ones. The cost to ship containers from overseas to the U.S. has skyrocketed 500% year-over-year.
In addition to longer lead times, building materials have experienced record cost increases, rising 20.3% year-over-year and increasing by 28.7% since the start of 2020. Here are some examples of the pricing increases we're seeing.

Seasonally adjusted softwood lumber prices, according to the most recent Producer Price Index report, increased by more than 25% in January. That's after increasing more than 21% the previous month.
The price of steel mill products is twice what they were a year ago, although it experienced its first decline (2% in January) in nearly 18 months.
Gypsum products have climbed in price by 23% year-over-year. That's the most significant increase since 2012 when the data was first tracked.
Navigate construction industry changes smoothly with design and build
Pricing volatility, supply shortages, and supply chain issues can cause concern among builders, but many headaches can be avoided with sufficient planning. Advance planning builds flexibility into project timelines to allow for supply chain issues and can help you secure better pricing on building supplies.
Working with a design and build firm on your project can also give you a leg up on these challenges while saving time and money. Contact us to learn more about how the design and build model of construction can help you navigate the evolving realities of the construction industry.