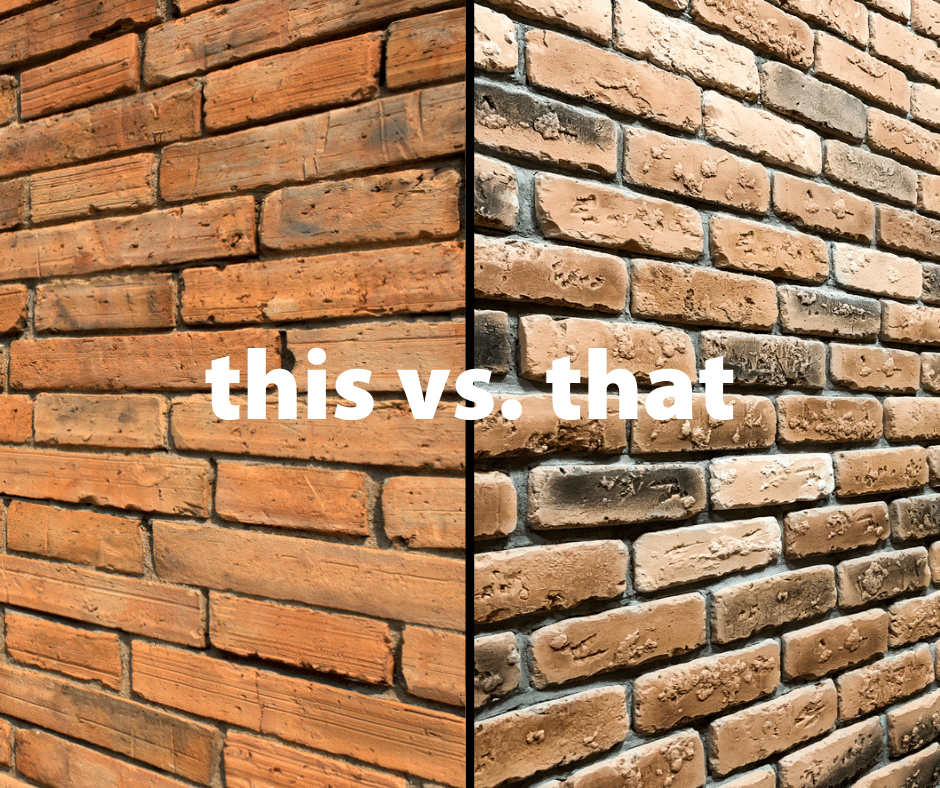 This vs. that: faux brick vs. real brick
Here are the factors to consider when choosing faux versus the real deal.
Brick has a unique, timeless appeal, a look that many opt to include in their design-build projects. Developers who want to harness that appeal for their commercial construction projects have options when it comes to creating the brick look, including choices that aren't actually brick. Whether you choose faux brick or real for your next build may depend upon several factors.
Comparing and contrasting faux brick products and the real deal
Let's take a closer look at the pros and cons of each: faux brick vs. real brick, so you can make the right choice for your commercial construction project.
Faux brick: benefits and drawbacks
Brick alternatives can be a viable option for many reasons, but they can also have drawbacks. Here are some factors you will want to consider about faux brick.
Brick alternatives come in a wide variety of colors and patterns, many of which appear almost identical to real brick. They can be made of many materials, including high-density polyurethane or composite materials (such as those made by Nichiha and Versetta Stone) comprising cement, fly ash, silica, wood fibers and more.
Some municipalities do not recognize or accept faux brick as a high-end exterior finish, requiring real brick instead.
Brick alternatives can take only a fraction of the time for installation over authentic brick. Imitation brick panels can save developers money by speeding up project completion.
Faux brick can be installed by carpenters, who may be more readily available than bricklayers and masons.
Faux brick can reduce project costs when compared to real brick, as it can be easier to install and can cost less per square foot.
Faux brick can be installed in cold weather conditions without the need for temporary enclosures and heating, making it a viable solution in cold weather conditions.
Faux brick does not require a brick ledge in the building foundation system, saving costs in the foundation system.
Artificial stone, depending on quality and type, can be subject to discoloration and damage from chemicals, salt, sunlight and more.
Faux stone needs regular maintenance and cleaning.
Faux brick is more susceptible to damage than real brick, even during routine maintenance activities.
To the highly trained eye, faux brick can be discerned from real brick.
Real brick: benefits and drawbacks
There's nothing quite like the appeal of real brick, but it comes with both pros and cons. Here are some issues you may want to consider when mulling over whether to use real brick or brick alternatives.
Real brick is beautiful, durable and long-lasting.
Municipalities more widely accepted real brick as a high-end exterior finish than faux brick products.
Real brick is more resistant to damage than faux brick.
Real brick is heavy, increasing construction costs due to the expense of transporting it and the labor required for moving it.
The weight of brick requires structural features to support its weight, including brick ledge details in the building foundations, steel angle supports, etc.
Labor costs for installing real brick are higher than that of faux brick products.
A shortage of bricklayers and masons continues to cause issues for developers and commercial contractors. This can slow project progress on your commercial build. (The S. Bureau of Labor Statistics projects more than 23,000 openings for masonry workers every year through 2031.)
Real masonry performs well and typically requires less maintenance than faux brick.
Real brick exteriors provide better protection from fire and storm damage, which may result in more affordable insurance premiums.
Thinking about finishing touches for your next commercial build?
When you're beginning your search for construction companies in Rochester, MN, or commercial general contractors in WI, chances are your project is just beginning to take shape in your mind's eye. Working with a trusted design and build firm can ensure your vision becomes reality while the project stays on schedule and within your budget. Contact us today to benefit from our preconstruction services; together, we'll design and build your next commercial construction project in Onalaska, La Crosse, Rochester or the surrounding areas.