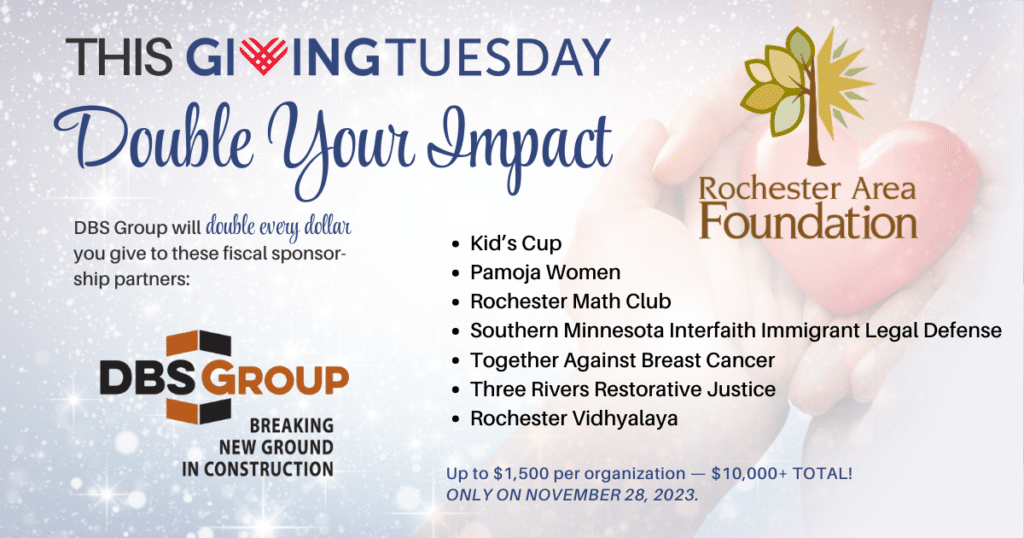 Rochester Area Foundation partners with DBS Group for Giving Tuesday match
Match of more than $10,000 invites community to double their impact this Giving Tuesday
In a boost to local philanthropy, the Rochester Area Foundation today announced a partnership with local design-build construction company DBS Group to double the impact of gifts to several of its fiscal sponsorship partners on Giving Tuesday.
"DBS Group has pledged to match donations up to $1,500 for each partner organization, offering an opportunity for community members throughout the area to become philanthropists. With more than $10,000 in matching funds from DBS Group, donors can double their impact with every dollar," said Jennifer Woodford, president of Rochester Area Foundation.
Donations will support varied Rochester nonprofit organizations
Diverse causes are participating in the match challenge, including Kid's Cup, Pamoja Women, Rochester Math Club, Southern Minnesota Interfaith Immigrant Legal Defense, Together Against Breast Cancer, Three Rivers Restorative Justice, and Rochester Vidhyalaya.
"The support on Giving Tuesday makes a big difference for these small but essential organizations," said Woodford. "Each donation is more than just a contribution; it's an investment in the health, education, and justice of our community,"
Organizations involved in the Giving Tuesday match with DBS Group are working to support minority Breast Cancer patients, provide immigration legal services, build math skills in school-aged learners, make hospital stays for young cancer patients more comfortable, and much more.
A thank you gift and investment in community
Chris Walters, president and CEO of DBS Group, said the company believes in the power of community and wants to see Rochester thrive.
"Giving back is a core part of our company ethos. This matching initiative is our way of saying thank you to the community and reinforcing the efforts of good people doing good things throughout the area. We hope the community will join us to make a substantial difference," he said.
To participate in the matching initiative and double the impact of your contribution, visit bit.ly/rochestercares on Giving Tuesday.