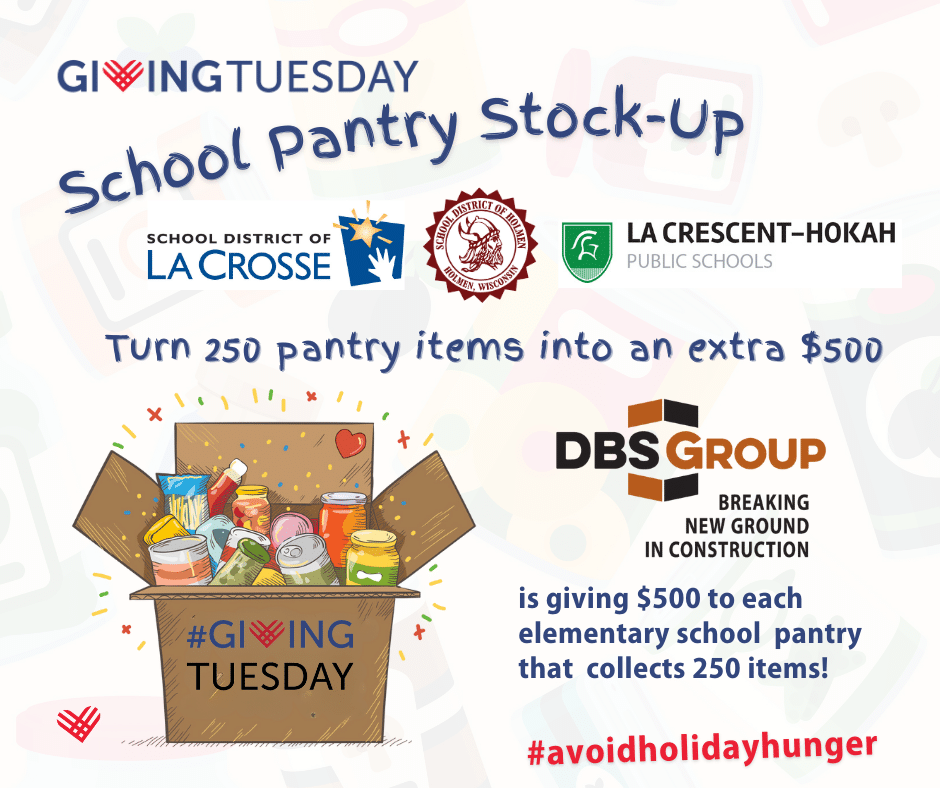 DBS Group partners to launch School Pantry Stock-Up
School Pantry Stock-Up aims to feed kids in need during winter break
While many young schoolchildren are counting the days until the holiday break that comes with the year's end, many others know it will mean a week of hunger. Without school meals, some schoolchildren could go days without anything substantial or nutritious to eat. But a new public-private initiative announced today aims to change that this year.
The School District of La Crosse, Holmen School District and La Crescent-Hokah Public Schools along with Onalaska-based design-build construction company DBS Group, have launched the "School Pantry Stock-Up." Each elementary school in those districts is running a food drive, seeking to add 250 food items to their school pantries. Each school that meets the challenge by Giving Tuesday (November 28) will receive a $500 donation from DBS Group to fill in gaps, ensuring every child who needs food over the winter break will have it.
Food insecurity rampant in local schools
"Many students in our district face daily food insecurity, and I'm enthusiastic about joining this community initiative to guarantee essential resources for our families during the upcoming winter break," said Dr. Aaron Engel, superintendent of the School District of La Crosse where one in two children qualify for free and reduced lunches.
Superintendent Dr. Kristin Mueller of the Holmen School District agreed. She said roughly 25 percent of the elementary students in her district qualify for free and reduced lunches.
"Hunger doesn't take a break when schools do," said Mueller. "Every weekend or holiday period away from the classroom means some of our students face uncertainty about their next meal. Our mission extends beyond academics; it's about nurturing the whole child, and that includes ensuring their basic needs are met."
La Crescent-Hokah Public Schools Social Worker Kate Mattison said the project couldn't come at a better time. A team in her district has been working to start a pantry, with a goal to have it up and running by the holiday break.
"What I love about the School Pantry Stock-Up is that isn't just about food; it's about providing security and support to our students when they need it most," said Mattison. "Ensuring our students have access to nutritious meals over the break is both heartening and motivating."
DBS Group offers up to $10,000 to stock pantries
DBS Group President and CEO Chris Walters said once he and his colleagues learned of the food insecurity issue in local school districts, they had to act.
"Childhood hunger is a community-wide issue, as our children's well-being is the foundation for a healthy, bright future," said Walters. "The School Pantry Stock-Up is about supporting and bolstering the efforts of our local schools to prepare the next generation for a successful future."
The total dollar amount for DBS Group's donation could reach as much as $10,000 if the schools meet the challenge, so districts and schools are reaching out to their local communities, hoping neighbors will help them reach their goal.
"I'm inspired by the remarkable generosity of families benefiting from our school pantries, so our aim is to provide further support without imposing additional strain," said Engel. "The broader community plays a vital role in this effort, and I encourage neighbors, friends, and community members to join us in achieving the goals set for each school pantry. Let's come together to ensure those in need receive the support they deserve."
To support the School Pantry Stock-Up
Schools most need items that are shelf-stable, nutritious, and easy to prepare. Examples include
Peanut butter and jelly
Crackers
Canned tuna, chicken, or turkey
Pasta or rice
Cereal, rolled oats, granola, seeds, dried fruits, and nuts.
Shelf stable milk and juice
Easy-open canned soups, broth, and pasta meals, including individual serving size
Apple sauce, canned fruits and vegetables
Granola bars, fruit bars, beef sticks, string cheese
If you'd like to support the School Pantry Stock-Up, you can drop off food items at the elementary school of your choice in the School District of La Crosse, Holmen School District and La Crescent-Hokah Public Schools. Schools are open Monday through Friday 8 a.m. to 3 p.m. Schools will be closed on Nov. 22, 23, and 24 for the Thanksgiving holiday.
You can also donate funds for the School District of La Crosse through the La Crosse Public Education Foundation at bit.ly/schoolpantrystockup.
To donate funds for the Holmen School District, visit bit.ly/holmenschoolstockup and write "School Pantry Stock-Up" and the name of the school in the comment section.
"We encourage community involvement and know that collective efforts can magnify the impact," said Walters. "Our hope is that the community's collective generosity will far exceed our initial investment, creating a ripple effect of support and care for those in need."