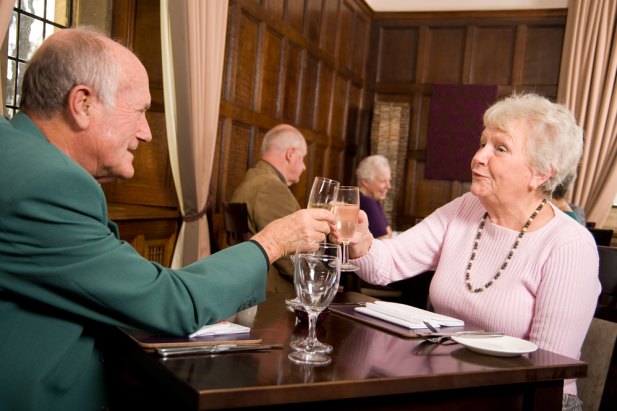 Senior housing facilities turn up the heat on dining choices
When it comes to senior housing trends, the days of cafeteria-style, scheduled dining are leaving residents hungry for more. Today's senior living residents crave a better selection, a resort-like experience, snacks when the urge strikes, chef-designed menus and food made-to-order to their specifications. In addition, they want unstructured dining spaces for when family and friends stop by. All of this means more than the menu is changing; in fact, this emerging shift is also affecting the architecture and design of senior living facilities, to ensure everyone is satisfied.
A new wave of dining options in senior living facilities, to satisfy every palate
Dining is even turning into a strategic business opportunity for senior housing facilities. According to https://seniorhousingnews.com, "Top Senior Housing Trends in 2018," dining ranks high among priorities for potential residents, and it drives resident satisfaction. In fact, experts say no longer are restaurant-style choices a nice amenity, they're quickly becoming a necessity for those who wish to remain a contender in the industry.
Senior living food service operators and senior housing developers are stepping up to meet demand for both variety and flexibility in dining choices, and that requires considering designing for multiple venues when it's time to plan your senior housing facility commercial construction.
Senior housing facility design and architecture ideas for better resident dining options
When thinking about how to reconfigure senior housing dining options, creative solutions abound. Here are a few of the newest innovations.
A separate dining room for dining needs that pop up, like unexpected guests.
Smaller food stations peppered throughout the building so diners can find a nook where they can enjoy a quiet meal solo or with a couple of visitors.
Fast-casual and even take-out options. Fast-casual offers quick service and additional seating for guests, while take-out lets residents pick up their meals or have them delivered to their room.
A pantry stocked with snacks that can be grabbed on the go, like fruit, crackers, granola bars and other convenient, no-cook foods. Depending on the needs at your facility, this could be staffed or unstaffed.
A small café-like dining venue or coffee shop for sandwiches, soups and salads.
Dining venues that also sell meals to general community members. This may be an especially good choice for facilities that are located in high foot-traffic areas or near several other businesses.
A house-branded product line, including house-branded wine, sauces and coffee.  Although this is not necessarily tied to the architecture and design of a senior housing facility, this can instill pride among residents and highlight excellence in food service while leveraging the power of branding.
Welcoming the next course in senior housing dining options
According to www.seniorhousingnews.com, "Inside the Rise of Multi-Venue Dining in Senior Living," dining ranks second among the average costs at a Continuing Care Retirement Community, surpassed only by nursing costs. With such an enormous percentage of associated costs, it stands to reason that officials who operate senior housing facilities want to make the best investment of those dollars for a greater return.
In a survey of senior services executives reported in Dining Strategies of Successful Senior Communities," by www.unidine.com the old fashioned-style tray passing model was tied to the lowest levels of dining satisfaction. Senior housing leaders know it's time to put the tray away and look at innovative solutions to attract and retain residents by offering diners choice, flexibility and a delicious new way to live.
Contact us for more information about DBS Group's design-build and construction services for senior housing projects.