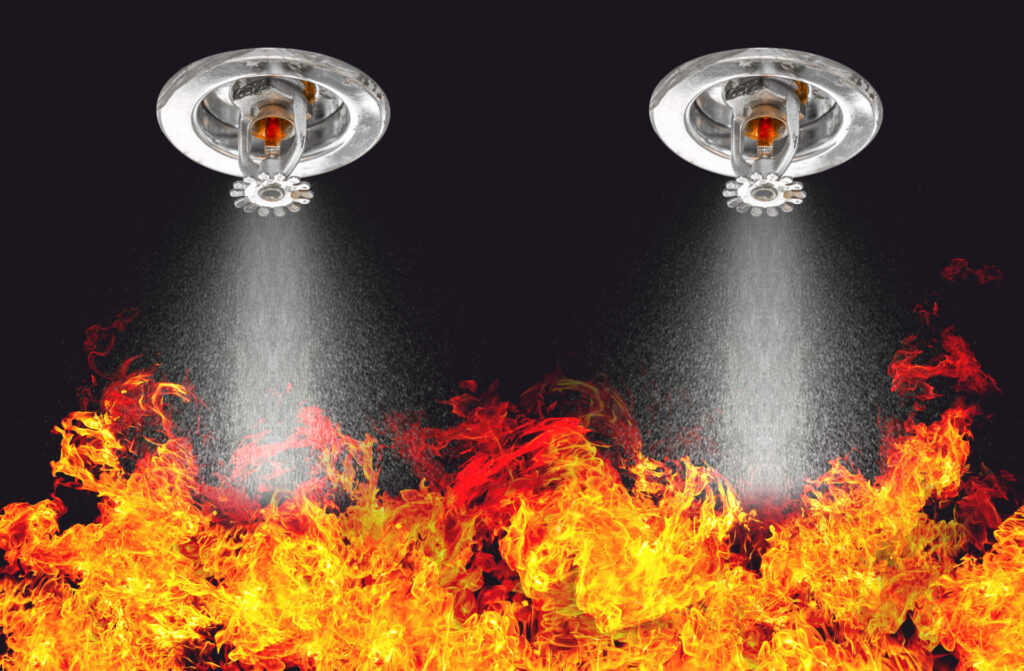 This vs. that: fire sprinklers and commercial properties
Here's what you should know about fire sprinklers and your commercial property
Whether you're considering retrofitting an existing commercial property with a fire sprinkler system or evaluating a new ground-up project, a commercial property's sprinkler status can have wide-ranging impacts — from life safety requirements to insurance considerations to protection in the event of a fire and even future building limitations. Let's compare and contrast sprinklered and non-sprinklered buildings.
When are fire sprinklers required in a commercial building?
The life safety codes applicable to your project may vary per the specific location of your project or property purchase, but in general, the following factors impact the need for fire sprinklers:
Building size. In general, the larger the building, the more likely fire sprinklers are required.
Building assembly. A non-combustible building (concrete, steel, etc.) may have different fire sprinkler requirements than a combustible building (wood-framed, etc.).
Building use. The intended use of the property, and the life safety codes associated with such use, will drive the need for fire sprinklers.
Sprinklered buildings
 Automatic fire sprinkler systems provide many benefits in commercial buildings. Here are some to consider.
Opting to install a fire sprinkler system during the initial construction provides greater flexibility regarding the facility's future uses while complying with code requirements.
Buildings with fire sprinklers require a larger water service to the building, with minimum water flow and water pressure to accommodate the fire sprinkler system.
Statistics indicate that in the event of a fire, sprinkler systems reduce deaths. The National Fire Protection Association shows that no fires in educational, residential or institutional properties with an automatic sprinkler system resulted in more than two deaths.
Should a fire occur, sprinklered buildings have a line of defense, meaning your business property and equipment will be better protected. NFPA reports that damage from fires is reduced by 40% to 70% in sprinklered properties. Plus, in buildings with automatic fire sprinkler systems, 97% of fires are contained to the room where they started.
Sprinklered commercial buildings are often eligible for substantial insurance premium discounts, ranging up to 60%. In some cases, those savings can equate to a sprinkler system paying for itself in time.
Commercial sprinkler systems may qualify a building for some income tax reductions and tax credits.
Fire sprinkler systems require maintenance, including cleaning fire sprinkler heads and replacing heads that get corroded or otherwise damaged. They also require regular system maintenance, including testing. Water damage in the wake of a fire is a reality for sprinklered buildings (as well as non-sprinklered buildings, when the fire department responds), but non-sprinklered buildings are likely to suffer more fire damage.
Non-sprinklered buildings
If applicable life safety codes do not require fire sprinklers, and you're leaning towards this route, you'll save money at the outset. But you'll need to keep the following in mind.
Opting not to install fire sprinklers during the initial construction may limit future uses of the facility due to life safety code requirements.
It may be possible to avoid a fire sprinkler system if the building design can incorporate compartmentation of building areas using fire-rated assemblies. This can be more expensive than fire sprinklers themselves but may be a potential option if a sufficient water source is not available for fire sprinklers.
Non-sprinklered buildings require a smaller water service lateral to the building, requiring a domestic water service only.
A smoke alarm may offer some peace of mind for occupants of a non-sprinklered building. And while a smoke alarm can alert occupants of the fire danger that is present, it does nothing to protect the property itself.
Building codes can require owners to retrofit their properties with sprinkler systems. Retrofitting a non-sprinklered building with sprinklers is more expensive than installing sprinklers during initial construction. Retrofitting historic buildings can be even more costly.
Existing buildings that undergo renovation often have new codes with which to comply, just as if you were constructing a new building. This is important to keep in mind when considering adding a non-sprinklered property to your portfolio.
Considering installing a commercial fire sprinkler system?
If you're planning a new commercial construction project or purchasing an existing property, you should consider fire sprinklers. Contact us to learn more about your options in your next commercial building project and how you can benefit from our team of experts and our proven design-build process.