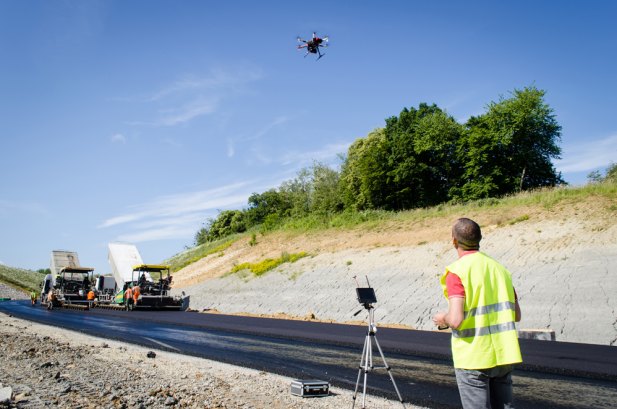 The drones are coming: How drones are being used in construction
Just a handful of years ago, drones seemed like something out of a science fiction film. Fast forward a few years and they were on seemingly every kid's holiday wish list. Today they're entering a new realm, and in the process, changing the construction industry with compelling outcomes and ripple effects for builders and clients.
How drones are changing the construction industry
It turns out, the construction industry—and builders and owners who are taking on new projects—is already feeling the effects of drone use. Here are just some of the ways drones are being used in construction today.
1. Security
Whether the goal is increased employee safety or protection from dangers like vandalism and theft, drones are protecting both the job site and construction staff.
In addition, drones can easily navigate high-risk areas of a construction site, areas that pose a danger to humans. This has immeasurable benefits, as not only can construction staff reduce risk, but human resources can be allocated elsewhere to increase productivity and speed to project completion.
2. Surveillance
Drones are being used as a tool to monitor worksites 24/7, with real-time reporting capability. This is increasing on-location security exponentially and reducing risk.
3. Surveying the job site, inspection and reporting
Many are using drones to quickly and accurately survey the construction site and develop maps, reducing the cost and time needed to gather this valuable information. Some are even using 3D laser scanners for high-quality images of the terrain. Best of all, the information gathered is more accurate than ever before.
In addition, drones are being used for inspection purposes, helping project managers not only keep their finger on the pulse of a project, but to see progress, what's working well and potential issues even before they arise. More, this data can be used to show clients, like you, the progress of the project even if you are not able to visit the job site in person.
4. Transporting goods
Transportation of the goods needed to get the construction job done can be an enormous cost driver. Imagine having the freedom to move an item without getting a truck and driver to do the job and without having to follow traffic laws on the road. By moving goods aerially and bypassing traditional vehicles, you can make product and supply deliveries faster and more cost-effective.
5. Staying on time and in the black
Because drones can provide real-time monitoring of construction job sites, it's easier than ever before to control issues that affect the project scope and cost. The result: real-time control gives you the ability to correct issues quickly and reduce costs and cost overruns.
Drones: useful technology that simplifies construction in many ways
Simply put, drones are being used to help control costs, improve communication and data gathering, simplify transportation and increase safety. And already, construction firms are leaning on drones to improve customer service and project outcomes. What seemed like sci-fi not too long ago is suddenly very real, changing the landscape of traditional construction practices as we know them.