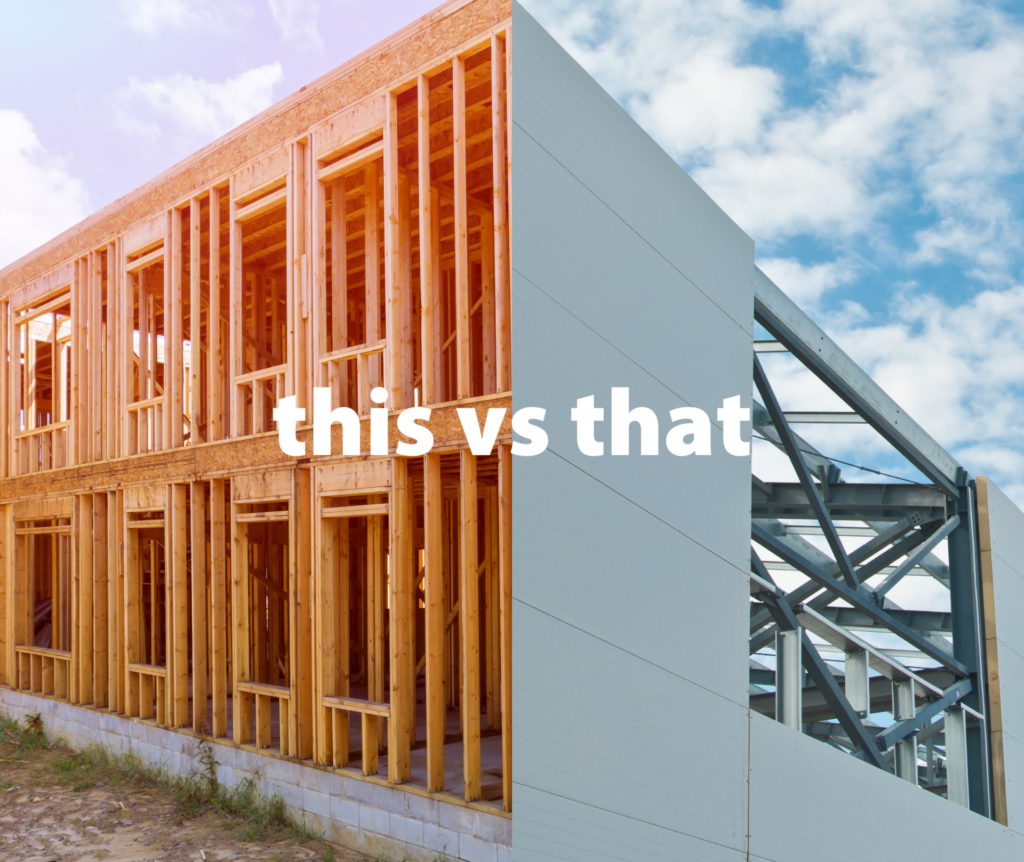 This versus that: stick frame vs panelized construction
Comparing and contrasting these building options
When planning your next commercial construction project in the Upper Midwest, you may wonder which is best: stick frame or panelized construction. Both of these options have their benefits and drawbacks, so let's compare them side by side to get a clear picture of which might be the right choice for your next build.
Panelized Construction
Panelized construction comprises building components that are made in a factory environment and then shipped to the construction site for incorporation into the build. With panelized construction, prefabricated building components, typically wall and floor systems, are set into place at the site with heavy equipment. Panelized construction can be customized, like stick frame construction, but requires a higher level of coordination and detailing during the design phase, with limited ability for revisions once design is complete. And because panels are constructed off-site, it often reduces waste and the time required to build.
Panelized construction is growing in popularity as the benefits become apparent. In our region, where weather is a factor, panelized construction can help navigate the shorter building season. Panelized construction can also reduce the number of hours required on the job site to erect the building structure. There are costs to factor in, including the cost of transporting panels, that can play a role in deciding which type of construction is right for you. And finding the right panel is key — panels can be fabricated with the framing and exterior sheathing only or can be fabricated to incorporate exterior finishes and interior mechanical rough-in piping as well. Working with a knowledgeable design-build team that collaborates with trusted partners can determine the right panelized solution for your project.
Stick Frame Construction
Stick frame construction is a traditional approach to framing a building structure. Essentially all parts of the framed building structure, from roofs to trusses to walls, are constructed on-site from loose lumber delivered to the construction site. It's a frequent choice for those who don't have the luxury of time for the additional design coordination, shop drawing development and fabrication and delivery time associated with panelized construction or for those who don't have a panelized fabricator in their area.
Stick frame construction allows for greater flexibility when it comes to design, especially for revisions after design is substantially complete. It remains a popular choice because of the relative abundance of lumber and the ability to commence construction quickly after design and approvals are complete. However, the affordability and availability of lumber have taken a hit in the face of recent challenges to the construction industry and supply chains, as has the availability of workers for stick-framed construction, all of which have driven additional interest in panelized construction.
There are some drawbacks to consider. Waste can be an issue for stick frame construction, as lumber is shaped for the project at hand on location. Stick frame construction can also face unplanned delays due to weather conditions — presenting a challenge that is minimized with panelized construction.
Choosing between panelized construction and stick frame? Design-build can help!
When it's time to make decisions about your next commercial construction, choosing the design-build model can make all the difference. With design-build, all project stakeholders work on the same team, with your goals at the forefront. The result is optimizing facility performance, maximizing the owner's investment, virtually eliminating change orders once construction begins and ensuring projects are delivered on schedule and on budget. So when questions about the pros and cons of stick frame versus panelized construction arise, you have the full team working to determine the right choice for your vision. So give us a call to determine how the design-build construction model can work for your next commercial construction project.