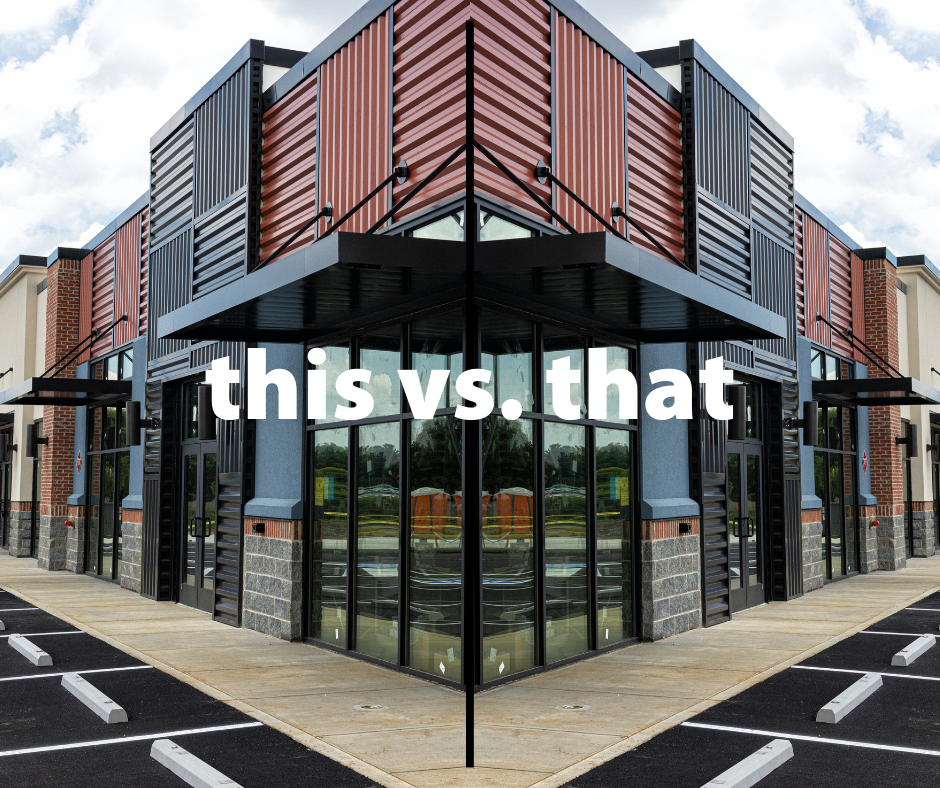 This vs. that: leasing vs. owning commercial space
Here are the pros and cons of leasing vs. owning
When considering commercial space for your business, you may wonder which is better: leasing vs. owning. Whether you are considering office space, a retail storefront, distribution facility, a factory or other commercial endeavors, it's often not an easy decision.
There are pros and cons to each choice, risks and benefits to both, and the wise leader will fully consider various factors before making a decision. Read on for a closer look at the upsides and downsides of leasing or owning commercial property.
Pros and cons of buying commercial property
Let's first consider the upsides of owning commercial property.
You build equity, and the value of your asset appreciates over time.
You have control over the property you own, so you may not need landlord approval when making improvements to your facility — though you will likely be subject to zoning and building code requirements.
As your own landlord, you could have greater flexibility in rent rate adjustments passed on to your operating entity than with a landlord.
You could choose to rent excess space to tenants, generating rental income.
You could access tax breaks for interest paid, some expenses and depreciation of value.
If something happens to your business (business closes or sells), there is value in the real estate to fall back on or lease the property to tenants.
Purchasing and owning commercial property does have potential downsides. Here are some you will want to think about.
You'll need a substantial down payment. Often a buyer needs to amass from 10% to 40% of the property value, plus other fees associated with securing financing.
If you have trouble qualifying for bank financing, the interest can be cost-prohibitive from non-traditional lending sources.
Commercial real estate loans sometimes come with prepayment penalties, including yield maintenance or defeasance.
The value of the property could decrease. While property is often recognized as a relatively safe investment, there is always a risk that a property could decrease value. When it's time to sell, you could suffer a loss.
If someone is injured on your property, you could be held liable. That means you'll need liability insurance. And if you take on tenants for a portion of the property, you may be liable as a property manager.
If your business is growing, and you are not sure how fast, you could outgrow a space that you own.
Pros and cons of leasing commercial property
Now let's examine the benefits of leasing commercial property.
Leasing may allow you to start operations sooner. That's because you won't have to wait to amass the down payment, and it's often quicker to build out or renovate a property than ground-up construction.
You'll likely have more capital, as you won't have to make a down payment on the commercial property. However, you will have fees and expenses such as a security deposit, broker fees, legal fees and inspection costs.
You may get a break on expenses you'd have if you owned property, such as maintenance and property upkeep, which the landlord typically covers. In some cases, tenants are asked to cover the cost of minor repairs. So you'll know what your rental obligation is each month, and you can feel secure in knowing major repairs will not fall to you.
You may have several tax deductions you can take advantage of, including your lease payments (which you can deduct in full). You may also be able to deduct property taxes, some insurance costs and more.
It may be easier to qualify for a lease than taking out a commercial property loan, and you may be able to spring for a more attractive property when you lease than when you buy. You also won't have to sell the property when it's time to move on.
If market conditions are unstable, committing to a three- to five-year lease may provide peace of mind.
Here are the potential drawbacks of leasing that you may want to consider.
Rent can be more expensive than mortgage payments, particularly when figuring out your insurance obligations, utilities, common area maintenance (CAM) charges and other expenses.
You won't build equity unless you've entered into a lease-to-own agreement. That means you also won't enjoy appreciation of the property's value.
The option to rent extra space to tenants won't be available to you, so you'll miss out on the secondary income opportunity.
Your control over the space is limited, so you could face rent increases, restrictions on the use of the property and other problems. And if it's time to close the doors to your business, you may be responsible for continuing to pay rent or a penalty.
Ready to build, repurpose or renovate? We can help.
When at last you've made the call and have decided between leasing vs. owning commercial property, it's time to build, repurpose or renovate. Working with trusted commercial general contractors in Wisconsin or Minnesota is key, and design and build contractors bring added value to the process. From our preconstruction services to a streamlined approach to your project, you could save time and control costs with the design and build model of construction. Contact us to learn more about how we can help you, whether you lease or own your commercial property.