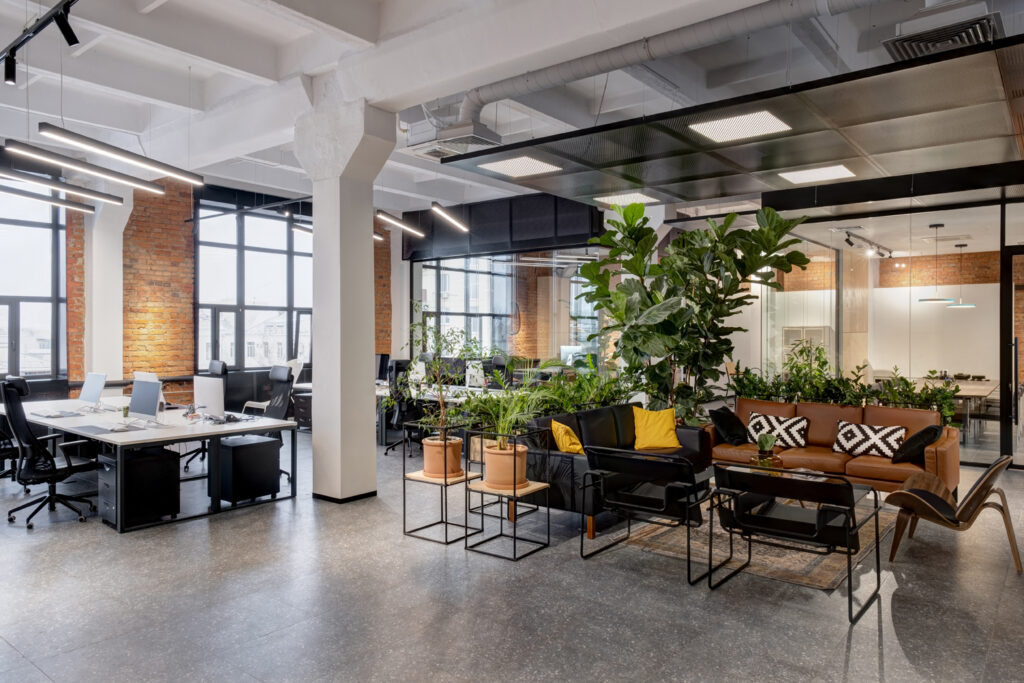 Well-being is driving office design
Design and build allows developers to pivot to emerging needs
The working world has faced numerous unforeseen challenges over the past two years, and commercial office design is shifting to meet the changing needs of today's business world: notably, the well-being of those who use the space.
Compared with the traditional commercial general contractor approach, the design and build model of construction allows greater flexibility and a higher level of collaboration to address needs specific to today's public health realities. Here are some of the changes we see in office design to maximize occupant well-being.
The changing design of work and commercial construction's role
Challenges rendered by the global pandemic have had lasting effects on how we work, and the ripple effects are likely to last long into the future. Those changes have had a significant impact on how we design and use commercial office spaces.
Data illustrate the importance of having a space that allows workers to collaborate outside the digital ecosystem. While most workers surveyed by JLL (60%) say they miss in-person interactions as a result of the move toward remote work, nearly two-thirds of those surveyed still want a physical space where they can connect with colleagues. More, the effects of virtual fatigue or burnout are real, and businesses are realizing that having a remote workforce often comes at the cost of innovation that would otherwise develop through in-person collaboration.
So while it's clear that commercial offices are still needed, what they look like is morphing, with well-being as a primary consideration. And having the right design-build contractor or commercial construction general contractor in place can ensure your building design reflects these changing needs.
Here are a few of the factors you'll want to consider as you redesign your commercial office space for occupant well-being.
How tomorrow's commercial office design is changing
Businesses are looking for new ways to meet organizational needs without the office density that was the norm pre-pandemic. That means more space between workstations and lower occupancy per square foot of commercial building space. Workstations themselves are also changing, with a move toward hubs with comfy seating and Wi-Fi, or booths for individual workers who need to have a private phone conversation — a definite shift from open-concept offices of the recent past. If you have an existing building and are moving toward a hybrid model, rest assured these changes can be implemented to make the best use of the space you already have.
For obvious reasons, we're also seeing a move toward design that enables improved airflow and fresh air ventilation, both for employee comfort and wellness. Other pandemic-mitigation shifts include more touchless features, such as automatic faucets, doors and more. In addition, increasing interest in natural light is shown to benefit workers' mental health and wellness, not to mention it's aesthetically pleasing.
Office design is often overlooked as a recruitment tool, but as we enter a time when employers face hiring challenges, having the right space can entice new talent and keep existing talent engaged. A commercial office environment that conveys your company culture, provides appropriate spaces for relationship-building and connection and offers training and mentorship areas is essential.
Is it time to build or upgrade your commercial office design?
When it's time to take a new approach to your office design — whether to meet public health needs and comfort of your staff, to present a space that will wow prospective employees or clients, or to create a place of collaboration, innovation and relationship-building — having the right commercial construction general contractors on your side is critical. If you're looking for design-build contractors near me, you've come to the right place. Contact us to learn more about the opportunities to redesign your commercial office space for our changing business landscape.