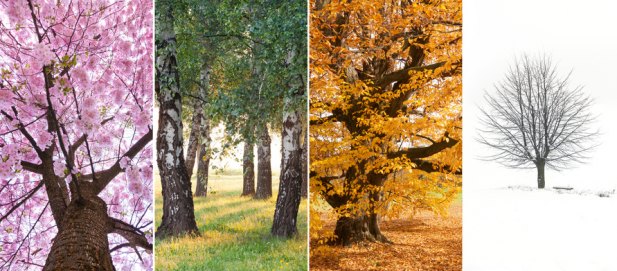 When it Comes to Commercial Construction, To Everything There is a Season
When you're planning to launch a commercial construction project, you may wonder when it's the best time of year to begin. Is it better to break ground in the spring, when the weather improves? Or are there benefits to building in the so-called "off-season," when the air turns colder and the snow flies? The truth is there are benefits to starting your project any time of year, and for every season, there are considerations to take into account.
Spring
Construction generally begins to ramp up in springtime and it's a season many consider to be ideal for launching their commercial construction dreams. When you start a project in the spring, you have several months with largely favorable weather to complete your project. But because the season is so popular for commercial construction, you may find it difficult to secure the builder you want, particularly if they are in demand. Plan ahead to get the team you want and the timeline you want them in, so your business is ready to open its doors when you are.
Summer
When you begin your commercial construction project in the summer, you're likely to enjoy far fewer weather-related delays, depending on where you're building. It's important to remember, however, that the availability of key materials decreases and the lead time increases during the summer months. Also, the availability of subcontractors, and their all-important labor workforce, decreases during the summer which can cause price and schedule increases. Finally, the authorities reviewing and approving required project permits get backed up during summer months, increasing the lead time for required project permits before you can break ground. But many retailers strategically plan for construction during summer in order to be ready for customers by the holiday season. Depending on your business needs, it may be worth it to navigate higher demand and pricing to be in the black, come black Friday.
Fall
As the leaves change color, the hot summer construction season begins to wrap up in preparation for cold weather. Demand for permits drops, so you may be able to secure what you need much faster than you would during the spring or summer. And contractors and subcontractors start to feel some wiggle room in their schedules, too, which means those highly sought-after builders may be willing to take on a project that would have been lost in the shuffle of the spring or summer seasons, sometimes at a more favorable price. Of course, your designer and builder will need to take winter construction into consideration, including provisions to protect foundations from heaving during the winter months. Depending on how quickly your builder can enclose the building, you may also need to consider temporary enclosures, heat and snow removal to maintain project progress.
Winter
Building might be far from your mind as you shovel out the driveway, but there's much to be said for beginning a project during the winter months. Builders and subcontractors often have more capacity and availability, so you can choose the team you really want, and you can often negotiate more favorable pricing because demand is lower during the winter season. Winter can also allow a relatively quick turnaround on the required permits you need to break ground. Winter construction will require winter construction provisions, including temporary enclosures, heat, cover and snow removal and planning for winter schedule slow-downs is oftentimes necessary. Winter can also be the perfect time to start planning your project and provides an opportunity to work with your designer and builder so that you can hit the ground running in the spring.
Indeed, to everything there is a season, but when it comes to commercial construction, any season will do, depending on your goals, your budget and your timeline. So whether your commercial construction project sprouts up with the tulips, shines in the hot summer sun, comes to fruition with the harvest or builds with the snowfall totals, you're sure to find benefits to beginning your project any time of year.