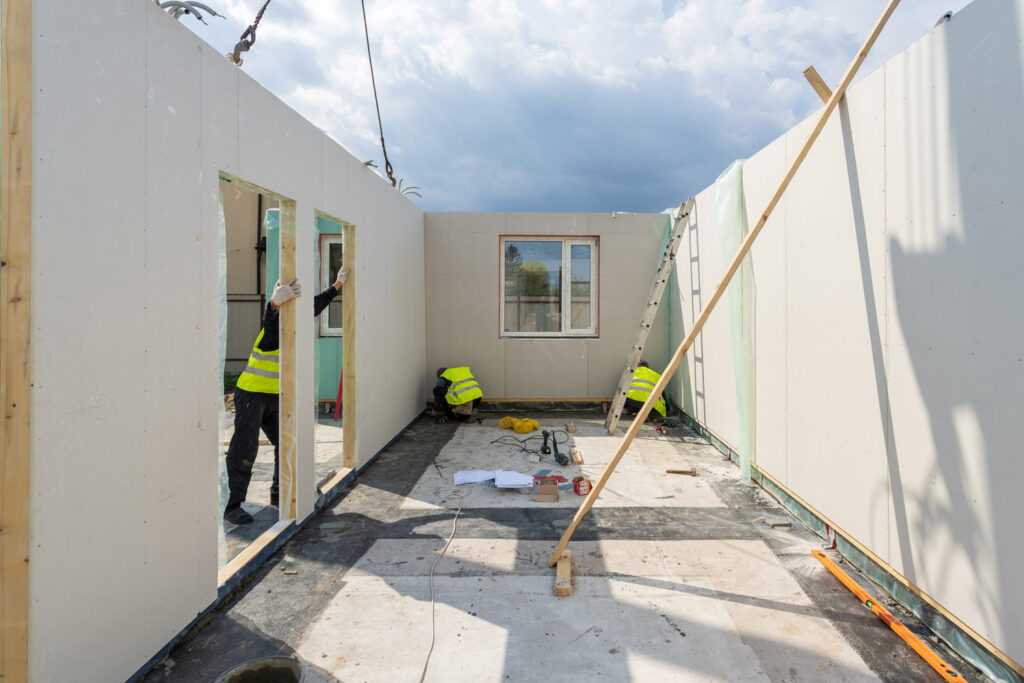 Are we entering a new phase of offsite construction?
Modular and prefabricated construction gains ground
Offsite construction, such as modular and prefabricated construction, is anything but new. Yet in the age of COVID-19 and the myriad other issues facing the construction industry, many wonder if we're entering a new phase of offsite construction. Among certain industries, and among those struggling to overcome the many barriers to meeting today's construction demand, offsite construction is getting another look. Let's explore the factors at play here and how offsite construction is rising to the challenge.
An industry in transition builds for the future
The COVID-19 pandemic has posed challenges to many industries, and the construction industry is among them. For one, the construction industry has faced supply chain disruption as a direct result of the pandemic, with production facilities occasionally coming to a standstill as part of mitigation efforts, difficulty in the transportation of goods and even trouble delivering supplies when no one is working on location, which we've reported on in the past. In addition, physical distancing recommendations, other COVID-19 protocols and a lack of workers in production plants have snarled productivity. Not to mention, the industry still faces a shortage of construction workers, which makes it difficult to staff project sites to meet demand. How can the industry address these concerns? Some think offsite construction may hold the key. Experiencing a boom that has been going on for a few years now, modular construction also shows promise in the mid-pandemic world.
Modular and prefab construction may offer promise to meet demand
As builders strive to overcome these challenges, offsite construction is emerging as a possible solution, which some believe can offer additional benefits over on-location construction, among them:
Improved efficiencies.
Some builders are finding that modular construction can contribute to a more streamlined construction schedule. In addition, new technology is helping modular buildings grow bigger and better than ever before. Take, for example, the Bowery Hotel in Manhattan, which at 19 stories and 246 feet tall, holds the record of the tallest modular construction in the nation. It is due to be eclipsed by a planned 385-foot AC Marriott Hotel in the Madison Square North neighborhood. Going big with modular requires keen architectural design and engineering; as always, the design-build model of construction will serve you well and give you the peace of mind that comes with having commercial design and construction experts collaborate from the onset of design.
Better customization.
Factory production provides factory settings — controlled and measurable. Gone are the outside influences that can dictate the quality of your construction onsite. The attention to detail delivered by offsite production and the controlled environment ensures products are developed to spec, even if the weather where you are doesn't cooperate.
Safety and suitable staffing on location.
As the pandemic continues, onsite work will require continuing COVID-19 mitigation efforts, including social distancing and ensuring workers are in good health to keep the project moving along. With offsite construction, your crew will have room to spread out on site, reducing proximity. More, manufactured buildings and the equipment required for them allow for fewer construction workers — so your project is resilient even in the face of labor shortages that might affect others. As a bonus, labor costs can decrease.
Want to explore offsite construction?
With a continuing pandemic, an industry labor shortage, material and equipment availability issues and rising construction costs, it makes sense to find creative solutions that help you complete your commercial construction project on time and within budget. Prefab, modular, or offsite construction may provide a roadmap for the future of construction. If you're ready to learn more about offsite construction and how it can help with your next commercial building project in La Crosse or Rochester and beyond, contact us to learn more.