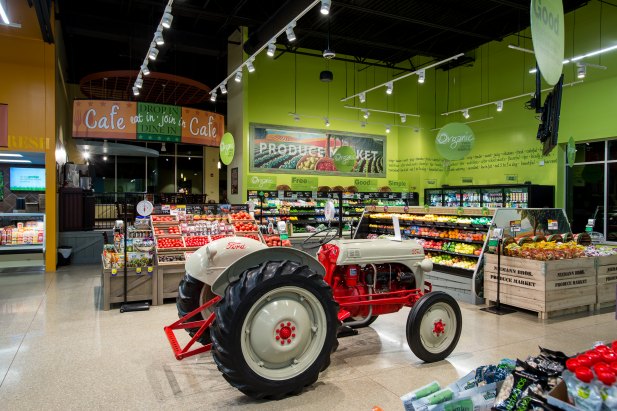 DBS GROUP AND NIEMANN HOLDINGS CUT RIBBON ON NEW COUNTY MARKET
DBS Group and Niemann Holdings celebrated the completion of County Market in Girard, Illinois, with a ribbon cutting ceremony on March 30, 2016, to mark the grand opening of the new grocery store. The only full-service grocery store in the town of 2,000, the original County Market structure was destroyed in a fire last May and had been operating from a mobile unit in the parking lot.
The new County Market is 28,000 square feet, 7,000 square feet larger than the original building. It features nine aisles, an expanded organics section, sit-down café, coffee and fountain soda area, full-service deli, hot-food bar and open-bakery along with digital menu and pricing boards.
Construction of the County Market began on September 1, 2015. The store features several energy efficient upgrades, including LED lighting throughout, high-efficiency HVAC roof-top units, a building energy management system, polished concrete floors and high-efficiency refrigerated cases.
DBS Group provided store planning services, architectural and engineering services and construction services for this project. DBS Group's design-build delivery allowed the collective team to respond quickly to work through planning, design and budgeting in order to start construction of the new County Market less than four months after the existing County Market was destroyed by a fire.