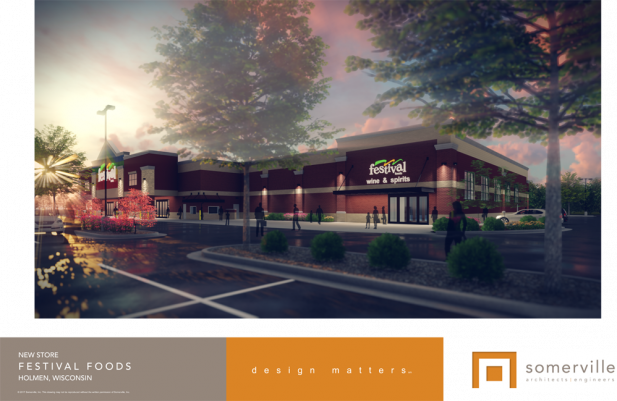 DBS GROUP ONBOARD FOR NEW HOLMEN FESTIVAL FOODS
DBS Group is partnering with Festival Foods and Commercial Horizons to build a new Festival Foods grocery store in Holmen, WI. The new, ground-up 67,000 square-foot Festival Foods facility will be located at 123 Hale Drive in Holmen and will incorporate full-service produce, deli, meat, bakery and wine and spirits departments, as well as a Tot Spot, pharmacy with drive-thru and brat barn.
Energy efficient building features have been incorporated into this project such as a high-efficiency building envelope, high-efficiency HVAC equipment, LED lighting, high-efficiency refrigeration equipment, polished concrete floors and electric car charging stations. The project incorporates 13 acres of site improvements, which will accommodate the new Festival Foods as well as three outlot projects yet to be announced. The Festival Foods is scheduled to open in October 2017.