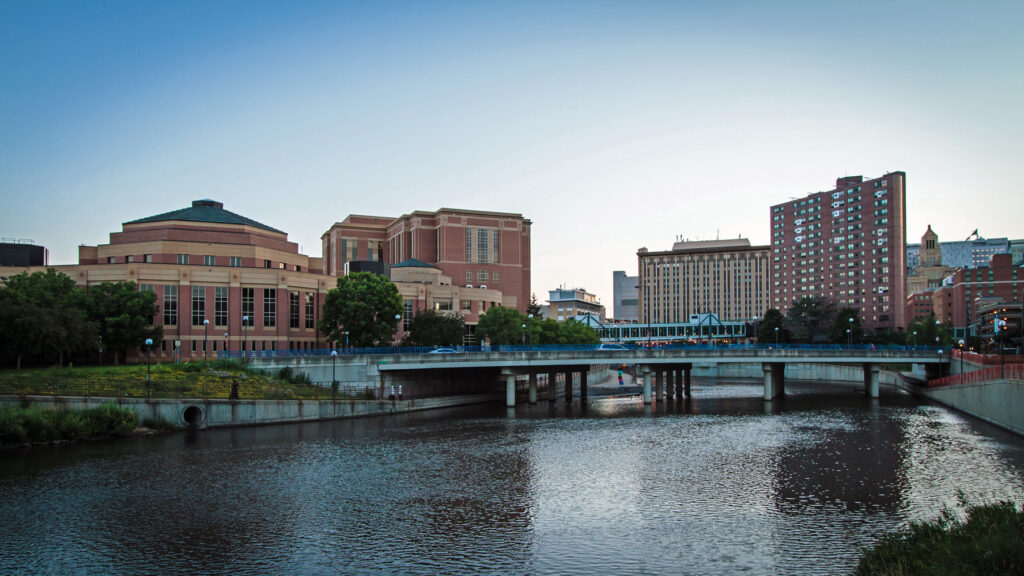 Market trends show design-build is growing
DBIA study offers insights into trends nationally and in the Midwest
Recent research by the Design-Build Institute of America in partnership with FMI offers essential insights into today's design-build market at the national level as well as in the Midwest, showing design-build is growing. The 2021 study examines industry growth, trends and drivers, and included research from existing industry data, market research interviews with 46 industry stakeholders, and an electronic survey with 279 respondents representing firms of all sizes. Projections were developed using baseline forecasts based on historical spending data from the U.S. Census and forward-looking data, including economic indicators, FMI project databases and primary research with industry experts.
Key findings of 2021 design-build utilization study
For purposes of the study, analysts developed industry projections for the next four years. For that period, researchers project a compound annual growth rate of 7.6%, totaling more than $400 billion by 2025. In total, the design-build model of construction is expected to make up 47% of construction spending over the forecast period of 2021-2025, an increase from 42% over the previously measured study period of 2016-2020. Over the forecast period, the most significant spending on design-build construction is expected to be within three assessed market segments, with highway/street, educational and manufacturing segments comprising 44% of the total.
According to the study findings:
When choosing project delivery methods for their commercial construction, owners considered them through the lens of their goals and objectives, the project's complexity, innovation and the project schedule.
More than half of respondents said the design-build model of construction surpassed their expectations, and more than 3/4 of respondents reported their experience with design-build had been either "very good" or "excellent."
Respondents reported that design-build fostered better team collaboration, and engaging stakeholders early in the process allowed for a high-quality result that better achieved the project goals.
Project owners have increased their use of design-build for widely varied types and sizes of projects. Owners have increased interest in design-build for providing the best value and for its progressive procurement approaches.
More than half of owners (64%) and specialty trade reported that design-build encourages more participation from Minority, Women and Disadvantaged Business Enterprises.
Design-build is projected to total $1.7 trillion in spending over the forecast period for the segments that were analyzed.
Of particular note is that among those interviewed, respondents felt that the design-build model of construction, because of early involvement, clear definition and team alignment, facilitated design excellence. Why? Early involvement allowed the team to better understand the project objectives and vision, the owner to clearly articulate the standards of design excellence, and the entire team from the owner to the design-build professionals to align early on with a complete understanding of budget and expectations.
Survey respondents associated design-build with many benefits, among them: increased collaboration and creativity, fewer disputes, budget adherence, more project and design control, highest quality and least risk, as well as greater opportunities to innovate. They also reported that design-build projects had a more manageable schedule, the most qualified service providers and the ability to fast-track a project.
Midwest-specific design-build findings and projections
For study purposes, the Midwest was further segmented into the West North Central Region (N.D., SD, NE, KS, MO, IA, MN) and the East North Central Region (W.I., IL, IN, MI, OH). For design-build spending through 2025, these regions ranked near the middle of assessed segments for the study. East North Central was estimated to have $35.7 billion in design-build spending in 2021, increasing to a forecast of $45 billion in 2025 (with a compound annual growth rate or CAGR of 6%). Meanwhile, the West North Central Region was estimated to have $26.4 billion in design-build spending this year, increasing to $34.7 billion forecast for 2025 (CAGR 7.2%).
In addition, progressive design-build continues to be a procurement approach of interest, with the West North Central region experiencing 21% progressive design-build procurement and the East North Central demonstrating 28%.
Of the 279 survey respondents, 12% were from the East North Central region, and 4% represented the West North Central region. More than half of all organizations represented in the survey have been involved in 11 or more design-build projects.
Is it time to explore design-build for your next commercial construction project?
The study underscores that owners know complex projects that require innovation benefit from the design-build model of construction. But even more than that, owners say their goals and objectives help drive the decision to select design-build for their project.
With expedited schedules and long-term cost considerations, design-build is increasingly rising to the top of the project delivery options. But, perhaps most importantly, design-build consistently exceeds expectations with these key considerations.
So is it time to explore design-build for your next commercial construction? Give us a call to take advantage of all of our preconstruction services, so you can truly experience the difference of design-build.