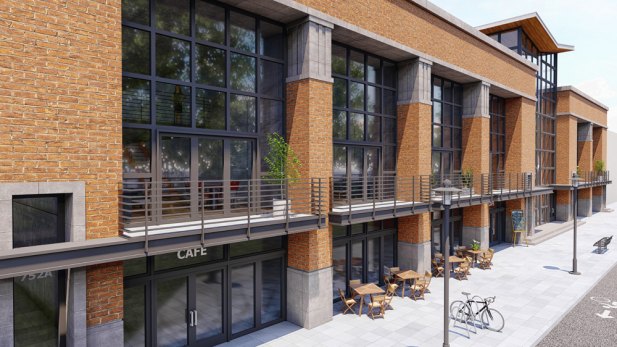 What it is, why it's hot and how some are maximizing potential
Mixed-use senior housing is getting a lot of buzz lately—and it's appearing in a wide variety of creative developments that are drawing attention. Typically, residential mixed-use housing for seniors and others has included dining and retail in a single building with apartments or condominiums on the top floors. But that well-known model is changing, and those who are moving in new, different and creative directions are getting attention, and results.
What's new in mixed-use senior housing
Here are just some of the ways mixed-use senior housing is changing and responding to seniors' needs and wants.
In Michigan, senior living partners with health care
American House Senior Living Communities has two floors of senior housing in Henry Ford Health System's Cottage Hospital. As the hospital shifted recently from inpatient care to an outpatient model, they had too much space and were operating at a loss. The two partnered together to create a mixed-use development, and for senior residents that means an added level of convenience when it comes to outpatient care, a huge consideration for potential residents.
In Manhattan, seniors will have an urban housing oasis
Urban markets have often been overlooked for senior housing developments for some time, but that's changing. In Manhattan, an ambitious development on the Upper East Side will provide memory care, assisted living, enhanced care and more. Inspīr Manhattan is slated to open this year. It will be close to much of the culture and energy of the city as well as world-renowned health care providers.
New York isn't the only market where urban senior housing is trending. Baby boomers across the nation have shown an interest in migrating back to urban
In Mexico City, building for mobility and health care delivery
At Belmont Village Santa Fe in Mexico City, builders have focused on creating a property that is walkable and convenient for care delivery. With a small footprint, but plenty of room to build up, the facility not only has retail and dining, but senior housing and a Hyatt Hotel, as well as underground parking. In addition, a sky bridge connects the Hyatt to ABC Medical Center, home to the top hospital in the city as well as a medical school.
Bringing culture in-house in the U.S. and abroad
Other mixed-use senior housing developments are seeing the value in bringing cultural experiences within their walls, recognizing changing abilities and mobility can keep seniors from otherwise enjoying those activities. At Inspīr, cultural activities as well as an in-house health center with a focus on spiritual wellness, will keep residents close to home while enjoying a full spectrum of offerings. The trend toward in-house cultural activities is going beyond their walls, with similar projects planned throughout the U.S. and Europe.
Mixed-use development for seniors: a response to customer preferences
The change in mixed-use senior housing has made the experience more integrative for seniors, and is giving them unprecedented convenience and access to what they want for their lives and what they need for their health. Having such access is invaluable to both seniors and their family members, and facilities responding to this shift will surely generate interest as a result.
Contact us for more information on DBS Group's senior housing design-build and construction services.