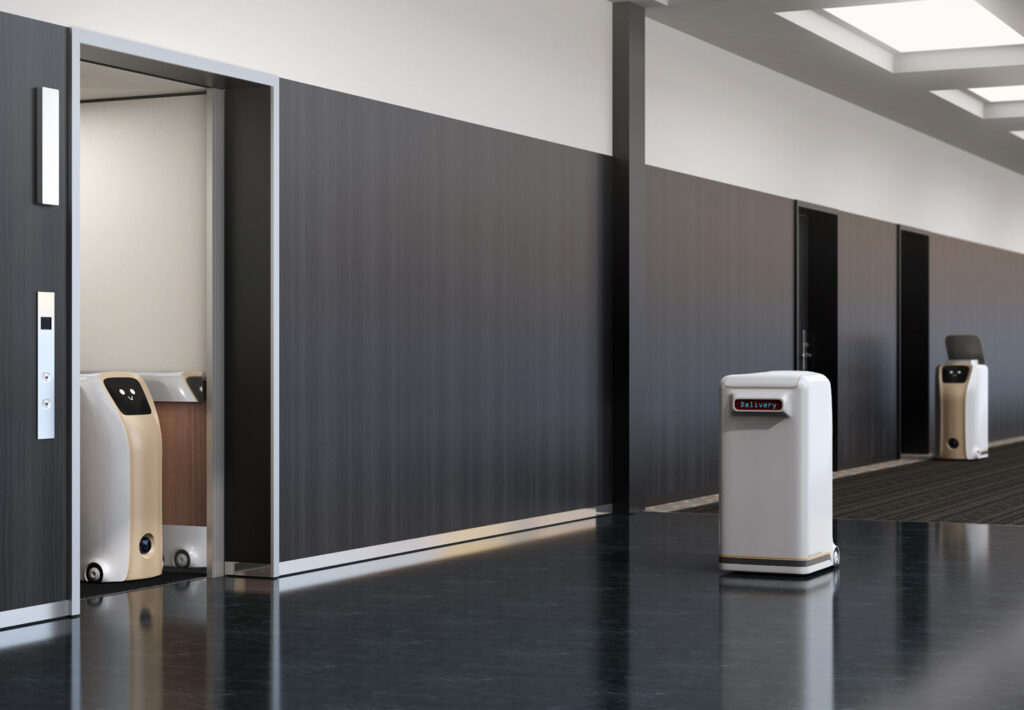 Tech paves the pathway to the future of senior housing
Pandemic accelerates industry's technology adoption
As the global pandemic took aim at senior population centers, senior housing responded by adopting technological solutions to the fight against COVID-19. And as leaders in senior housing brace for boomers to retire en masse to the tune of 73 million by 2030, these tech solutions are likely to carry through to serve the next wave of retirees.
New health and safety technologies in senior housing
So what are these technologies, and how do they support the health and safety of today's senior housing residents and those of tomorrow? Here's what our experts are seeing in the industry.
Touchless tools and more
Avoiding surface transmission of harmful viruses and bacteria is key to protecting residents, so many senior living facilities are implementing touch-free technologies. This can include solutions such as automated doors and touchless elevators. Other solutions include installing materials that are easily cleaned or have antimicrobial properties. Artificial intelligence technologies can support pandemic mitigation efforts by alerting staff when a room exceeds recommended capacity or when visitors and residents aren't following masking guidelines.
The robot revolution
Robots are taking on a more important role for today's senior housing residents. Among them are cleaning robots that disinfect spaces by killing bacteria and viruses quickly and efficiently, making a room safe in under a half-hour. Robots are also safely filling the social isolation gap as well, which can have a profound impact on older adults. The latest tech allows robots to display the face of someone contacting a resident, helping seniors stay connected with their loved ones on a more personal level. In addition, robots are being leveraged for food service tasks, temperature checks and more.
HVAC technologies
Proper air filtration is essential to stemming the spread of COVID-19 and other airborne illnesses, and senior living facilities are improving their HVAC systems to meet this need and keep their residents healthy. Some are installing medical-grade air purifiers and disinfection systems that surpass HEPA filters' effectiveness in clearing the air of harmful pathogens. We expect air quality to continue to be an important area of focus for senior living facilities of the future.
Telehealth tech
Telehealth needs such as virtual health care appointments are becoming more critical during the pandemic as seniors strive to avoid unsafe situations, unnecessary trips out in public and in-person contact with people outside their bubble. That means many are reticent to go to a clinic for their routine appointments and are seeking other solutions.
Tech is most certainly coming to the rescue. For senior living facilities, that doesn't necessarily mean bringing health care in-house but instead employing technology that allows residents to connect with their providers to manage their health care needs. Some senior housing officials are even partnering with health care providers to provide seamless delivery of care via telehealth. Services may also include biometric patient monitoring from a safe distance. At the heart of this capability is, of course, fast internet service.
The tech-driven future of senior living facilities
COVID-19 has made it clear that technology is a fundamental component of tomorrow's senior living facilities. If it's time to upgrade your HVAC systems or facility's tech capabilities, we can help. Whether you're considering a renovation to meet the changing needs of seniors during and beyond the pandemic or planning your next new construction, our design-build team is ready to assist from the early stages through project completion. Contact us to talk about how we can support your senior housing project needs.