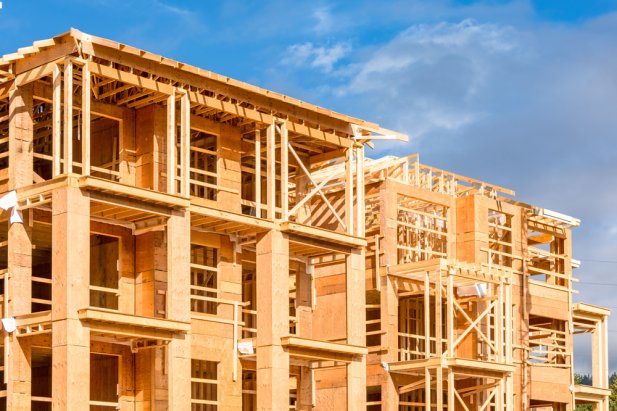 The prevalence of wood construction
Here's why wood construction is so popular right now
For many, there's nothing more appealing than the look, feel and the overall benefits of wood construction. And while it's nothing new (think 1970s architecture), wood is indeed enjoying a renaissance these days in the construction world.
The popularity of engineered wood is reaching new heights recently, with no decline in sight. And commercial construction clients are demanding it for so many uses — from chic office spaces to commercial/retail properties to multifamily housing. From wood floor systems to beams and trusses, laminated veneer lumber and wood structural panels, wood is having a moment in the construction landscape. But why the renewed interest in it? Let's nail it down.
Wood is more popular than ever
When it comes to wood's popularity, we see a trend throughout the nation, including here in the Upper Midwest. Developers and architects have a deep appreciation for wood, and there are several apparent reasons why.
Ease of use
Dimensional wood framing members, and some engineered wood members, are readily available in markets local to most project sites and come with adaptability and flexibility that are attractive to designers and contractors alike. Wood-framed structures can be constructed year-round in most climates, including in cold-weather conditions, making it attractive for use in Midwest markets like ours. Also, offsite pre-fabrication options exist with wood-frame structures that can save labor costs as well as shorten project schedules.
Acoustics
Wood is naturally sound-damping, offering noise mitigation control and sound insulation, especially when paired with other insulating materials, to achieve specified sound transmission class ratings. When it comes to finish materials, wood and engineered-wood products create pleasant acoustics in a property, which is why wood is often such a hot selling feature these days. Frankly, it sets the scene, and when done well, it can create a haven of relaxation with a warm reverb. It softens sound, creating welcoming spaces for dining, meeting, working with clients and, of course, living.
Thermal resistance and energy benefits
Wood provides excellent thermal resistance — meaning it has the natural ability to resist heat flow. Unlike concrete and steel, wood does not need a thermal break between the structural and exterior envelope. Additionally, wood sheathing products such as plywood can be an asset when implementing continuous exterior barriers to prevent air leakage, which is now required by building codes in some regions. As a property owner, you can be assured that a wood environment will help create comfort, enhancing the enjoyment of your space.
Affordability
It turns out wood structures are also cost-effective beyond energy savings, with an overall expense that's less than hybrids of concrete, steel and/or wood. The availability of wood materials, availability of qualified tradespeople with wood-framing experience and the speed of construction provides cost benefits over other building systems. When you truly drill down into the lifecycle costs as well as construction-related costs, wood buildings can be attractive when it comes to your bottom line.
With wood construction, benefits abound
There is so much good when it comes to wood; it's no wonder architects, contractors and developers are turning to this trusted construction solution for today's modern buildings. From economics and efficiency to versatility in the latest design trends to gorgeous finish options, to a focus on comfortable, welcoming spaces, wood is where it's at these days. Want to learn more about incorporating wood into your next commercial construction project? Our design-build model of construction can ensure your entire team embraces your vision from start to finish. Contact us to learn more.