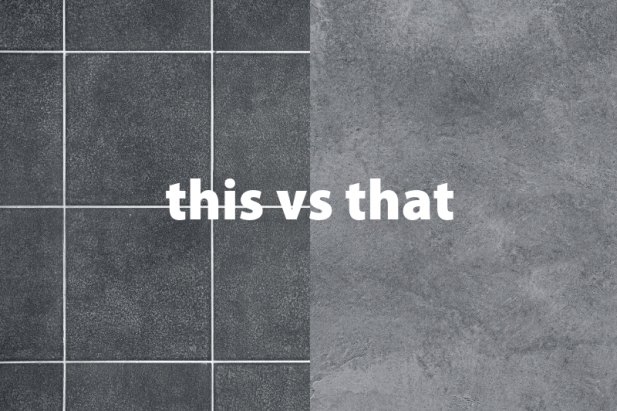 This vs that: Hard-tiled flooring vs concrete
When it's time to choose flooring for your commercial construction project, you have a lot to consider. For many, there is a question of whether classic, hard-tiled flooring is the right choice, or whether stained concrete might provide additional benefits.
Concrete has come a long way since the days when it was regarded as just a utilitarian, industrial-looking surface for garages and sidewalks. And for many developers, it's becoming an attractive option. But the question remains: how do hard-tiled flooring and concrete compare? Let's break it down.
Concrete or hard-tile: which is right for you?
To some, it may just be the surface you walk on, but the reality is the demands placed on flooring are many, and choosing between concrete or hard-tiled flooring isn't a decision to be taken lightly. For example, will your flooring be in a high-traffic area, or does it need to be especially durable? Is it subject to the elements? Does it need to be free from molds and other allergens? When it comes to maintenance, what duties are you willing to take on for upkeep? How do the costs of hard-tile and concrete measure up? Last but not least, what kind of design flexibility do you want for your construction project? Here's how hard-tiled flooring and concrete compare.
Indoor and outdoor use
Both hard-tiled flooring and concrete are suitable for indoor or outdoor use. Tile materials should be selected with an eye toward the weather conditions the surface may have to endure, if outdoors. Exposure to moisture, freezing and thawing, and more should be taken into consideration so that you have a product that can withstand the challenges it will face.
Durability
Both hard-tile flooring and concrete provide durability over other flooring options, although the durability of tile depends largely on the choice of material you select, as well as the concrete substrate it is installed on top of. Some types of tile, such as slate, may crack easily, while others, like marble can discolor or become etched if exposed to water. If moisture does penetrate the pores of concrete, mold and mildew can grow, and concrete is prone to permanent staining when exposed to certain product spills, such as products containing vinegar. Also, if the environment is prone to freeze/thaw cycles, concrete may crack.
When installed correctly, neither hard-tile flooring nor concrete should harbor mold, dust mites or other allergens.
Maintenance
When it comes to maintaining your flooring, both concrete and tile must be regularly treated with non-abrasive cleaners, and both may require polishing from time to time, particularly in high-traffic areas. Care must be taken with stained/colored concrete to ensure the correct cleaning products & processes are used, or the stain/color can be compromised.
Design Flexibility
Both concrete and hard-tile can be customized to an almost unlimited number of colors, designs and finishing techniques. For renovation projects, re-finishing an existing, exposed concrete surface can be very difficult to achieve the desired finish/appearance. Concrete can be difficult to place and finish around existing architectural features, while hard-tile can be customized easier in such situations.
Cost
In most cases, concrete is found to be the less expensive option. Experts estimate hard-tile flooring costs between $6 and $22 per square foot, while a finished concrete slab will likely cost between $2 and $15 per square foot, not including the cost to place & finish the concrete slab. For tile, the costs will depend on the quality of the tile material selected, as well as the design/pattern of the tile installation. For concrete, the costs will depend on the options selected for staining, scoring, stamping and/or pattern.
Selecting the right flooring for your project
Choosing the right flooring is essential to getting the look, feel and function you want for your space. By keeping these many factors in mind, you should be able to determine whether hard-tiled flooring or concrete is right for you. When the time comes, having a professional on your side can guarantee you get the most for your investment in your flooring project, with a product installed and expertly finished to last.